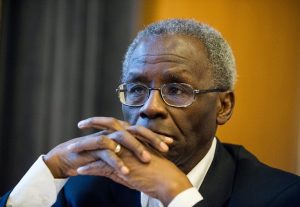 Tomori  Oyewale awardee of the 2002 Nigeria National Merit Award, NNMA. Tomori is a virologist at the World Health Organization, WHO, and he has carried out various researches in epidemiology and serology of viral Infections, both locally and internationally.  The investiture of the professor was performed by President Obasanjo on December 11[i]. In his acceptance speech at the Academy, Tomori  made a point that the Nigerian scientists have not done creditably well over the years. He pointed out that in scientific journals all over the world, what make the news are the scientific discoveries, decrying that the  country's scientists have left much to be desired[ii].
As a renowned virologist, Tomori earned plaudits both nationally and internationally for his contribution to the field of virology. Also a university administrator on account of his position of the Vice-Chancellor, Redeemer's University, later, president,  Nigerian Academy of Science, a foremost science institute in the country, Tomori led for decades the campaign against polio eradication.
Born February 3. 1946 in llesa, Osun State, Oyewale Tomori schooled at St. Peter's Primary School, Isona, llesa, 1952-57. Government College, Ughelli, 1958-64, Ahmadu Bello University, Zaria, 1966-71, and University of Ibadan, 1972-76. He was appointed Professor of Virology: University of Ibadan in 1981[iii].
[i] Insider, December 2, 2002
[ii] NATION, May 5, 2013
[iii] Newswatch Who is Who