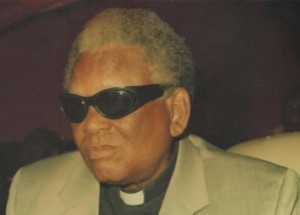 Timothy Obadare Television Evangelist and convener of Koseunti (God who never fails), a monthly revival program that draws many hundred spiritual tourists to Akure town. Timothy Obadare was born 1930 in Ilesa to a family of clergies. He grew up in The Apostolic Church, where his father served as a pastor. Obadare lost his eyesight at the age of seven during a smallpox epidemic. His primary education was terminated and he sought meaning to his new life, adapting his mind to spiritual things. Before his 20th birthday, he had sensed he was of a special calling, and he had commenced church work at The Apostolic Church in Ilesa. In 1954, he completed a theological course in the church's seminary. This was two years after the experience he had during a prayer meeting, for which he became fully convinced about his ecclesiastical career. On 5 June 1953, after another religious experience, Obadare made a four-hour sermon, now considered as the inauguration of his charismatic ministry. Scores of people sick with cough was healed in Ilesa during the ministration.
 
CAC
In 1957, Obadare met the charismatic movement leader, Ayo Babalola who brought him to the church he founded some seventeen years earlier, the Christ Apostolic Church (CAC). Obadare worked in Nigerian towns of Ado-Ekiti, Ikere-Ekiti, Shaki. Five years after his posting to Akure in 1965, he had started the popular Koseunti prayer meeting. In 1974, he founded the World Soul Winning Evangelism Group, later renamed the World Soul Winning Evangelistic Ministry (WOSEM). Perceived ambiguity in the mission of this avowed evangelical arm of the parent church, CAC, contributed to controversies with the church's mainstream. Towards the end of his life, he took steps to redress most of these controversies.
 
Bible Quoting
Obadare's renowned dexterity in bible passages is attributed to a figurative spiritual experience he had in 1952 in which a bible copy was impacted into his skull. Several healings have been recounted during his prayer meetings in Akure and throughout the world. When he died in 2013, he was accorded a state burial with inputs by the governments of Ondo and Osun states.