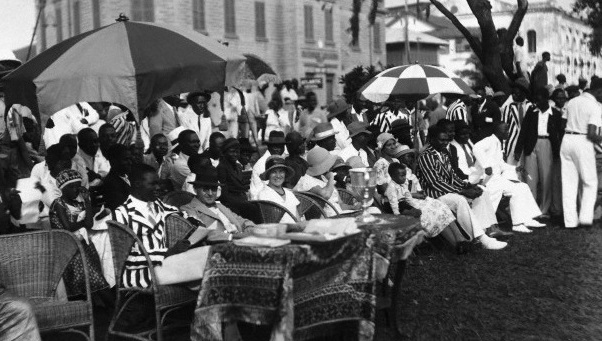 The Great Debate was the term employed by historians in describing the struggle of ethos in the late 19th Century Lagos to which the postmodern African civilization in southwest Nigeria is owed mostly in culture. Historian explained the nexus of this debate as the desire to extol the contributions of the African to world civilization. The dilemma to which the educated Africans of the time found himself had to do with the conflicting tendencies to remain African or to Europeanise. In the opinion of O.E Macaulay, newspaper editor whose maternal grandfather was Bishop Ajayi Crowther, the people of Africa are better off adopting the manner and customs of the conquerors. Macaulay suggested even the native cloth toga and sandals to give way to what he admittedly called the "costly and non-convenient dress, boots, shoes and hats".
Although the so called native clothing had been disparaged by members of Macaulay's school of thought as equally of foreign creation, persons like John Payne Jackson, also a newspaper editor, still extoled the dress reform movement that began in the late 1870s in which several educated Africans began to trade the inconvenient dress of the whites for a more native buba and sooro and iro with gele.
The period of the great debate was also the period of grand occasions such as the emancipation of slaves in Brazil, the administrative separation of Lagos from the Gold Coast, the silver wedding anniversary of the British Queen, Victoria, and the burial service of the Lagos monarch, Dosumu, during which the debate in matters of dressing was temporarily decided in favour of native clothing.