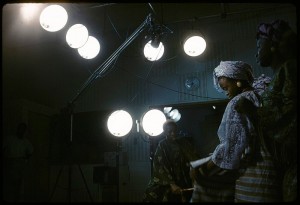 Television in Nigeria was anticipated by Adekanbi, editor of Eko Akete in a 1924 publication when, in reaction to Colonel Malone, chairman of the Radio Association's prediction of the emergence of the television he noted; "We rather should leave our reader to imagine a world in which for instance, one can remain in Lagos and look at Wimberley, and see the Empire Exhibition in progress with almost as much facility as the people on the spot." [i] For Nigeria, this dream was to come true three and a half decades later when against the advise of those who argued the country wasn't ready for a television, Obafemi Awolowo established the Western Nigerian Television, WNTV, first in Africa, as a means of mass education, which was the cornerstone of the policy of his government as premier of the Western Region. In order to facilitate the realisation of its objective, the Action Group government installed two television sets in each of the secondary schools that were within the coverage area of the small transmitter at Mapo Hill. Public servants were granted loans for the purchase of personal television sets, while viewing centres were set up at government expense. However, over the years, the WNTV metamorphosed into Nigeria Television Authority, with sub- stations in almost every state of the nation.
In 1973, Organizing committee of the  second African games restricted television coverage to Broadcasting Organisation of Nigeria (BON), to the discomfiture of many African television and radio delegates who found on reaching Lagos they could not operate[ii]. The lack of local technology forced the nation to depend mainly on importation, hence forced to depend on outdated ones which produce poor quality effects. The films that were being done at that time were few and far between. It was usually Hubert Ogunde, Ade Afolayan and Baba Sala[iii] .
The early 80s featured vivacious Patti in Lux Beauty Soap adverts and her musical show tagged "The Paiti Boulaye Show" on television [iv]. Village Headmaster, which turned out the most popular and the longest running drama programme on the Nigerian television network, ran for over 30 years. This soap, created by Segun Olusola was succeeded by other good programmes, like New Masqerade, Samanja, and Behind the Clouds[v]. Tales by Moonlight, Nigerian Television Authority's longest running children's programme was selected as the winner of 1991 International Video and Film competition, organised by the National Black programme consortia in Columbus, Ohio, USA. The programme which debuted in 1983 dramatised the Nigerian folklore through  Nkem Orakwe's narration[vi] . Veterans like Zack Amata, Olu Jacobs, Richard Mofe-Damijo finetuned their craft by appearing on quality soap operas. This era was followed by a dearth of indigenous soap on the Nigerian prime time television [vii].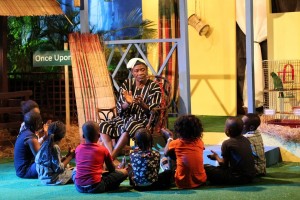 When 14 private TV stations were licensed in 1993, millionaire businessman, Raymond Dokpesi got a provisional approval to run a TV station. He struck gold in 1995 when he got a double license to run a local UHF TV station and a satellite broadcasting station[viii]. Dokpesi pioneered ownership of private television stations in Nigeria. He also blazed the trail in providing round-the-clock broadcasting and placing a Nigerian TV station on satellite[ix]. The liberalization of President Obasanjo era led to the geometric expansion of the media space. New radio and television stations sprang up, more than in many countries in Europe. Many Nigerian television stations came on satellite to be viewed in different parts of the world[x]. More professionalism was also demanded of them when musician, Charles Oputa, aka "Charly Boy filed a copyright infringement suit against Television Authority, NTA[xi]. Ben Murray Bruce as CEO of Nigeria Television Authority made the TV network to offer 24 hour service to Nigerians for the first time. In the first week of his administration, NTA 2 Channel 5, which was operating on six hours per day, went 18 hours and in a few months went round the clock. And in a matter of months, almost all NTA stations followed the 18-hour operation. So began the story of a public company that was for the first time being headed by a private sector person with little or no patience for bureaucracy. And as a showbiz man, Murray Bruce demonstrated his creative abilities in the rejuvenation of existing programmes, which ran side by side the new ones. The old programmes that made a surprise return were The New Masquerade, Baba Sala Show, and the Adventure of Waziri. The NTA also improved on its educational programme such as Speak Out, You and the Constitution, Fact Line, and Patito Gang. Those with disabilities were also not left out as the station initiated Talking Fingers, a popular programme among viewers, especially the deaf and mute. There were also other entirely new programmes like Super Story, Izozo, Paradise Park, and Touched By An Angel, which became instant hits[xii].
The Nigeria Broadcasting Corporation had in 2004, taken a dive into controversial waters when it ordered broadcast stations in the country to expunge portions of religious programmes containing unverified claims of miracles. Earlier in 2001 NTA stopped the airing of religious programmes with claims of miracle in them[xiii]. In other breadth, a crowd pulling drama series collectively dubbed Olokun Asorodayo was presented by traditionalist, Yemi Elebuibon on the then Western Nigerian Broadcasting Service (WNBS), the Nigerian Television Authority (NTA, Ibadan) and later Television Service of Oyo State (TSOS) as well as Broadcasting Corporation of Oyo State (BCOS) [xiv].
At the turn of the century,  development was recorded in the areas of technology which transformed television into a multimedia through computer application in everyday life. By this time, there was hardly any urban area in the country that is not served by one or two stations[xv]. The deregulation of the broadcasting system gave birth to a plethora of private televisions in the nation. In 2010, Anthony Dara, a 37 year old Nigerian launched Network News 24, a new 24- hour news television station which he intends a an African concept with global reach[xvi].
 
 
[i] Eko Akete February 2, 1924
[ii] AFRICA March 1973
[iii] Punch October 9, 2016
[iv] The News November 18, 2002
[v] Tribune March 24, 1995
[vi] TELL November 21, 1991
[vii] Newswatch December 7, 2009
[viii] Fame June 27, 1995
[ix] The News March 31, 2008
[x] Westerner April 6, 2009
[xi] TELL May 8, 2000
[xii] The News July 21, 2003
[xiii] Newswatch April 19, 2004
[xiv] Tribune August 13, 2014
[xv] TELL November 29, 1999
[xvi] The News May 24, 2010