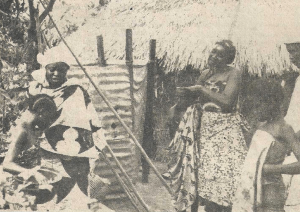 Tales By Moonlight, Nigeria Television Authority, NTA's network programme for the kids which dramatises the Nigerian folklore exploits the whole gamut of television formats. The programme which debuted in 1983 provide for the young Nigerian audience entertainment as well as performing an invaluable integration of the different cultures of the Nigerian society. Showing every Sunday evening depending on the quarter, Tales by Moonlight is inspired by the strands of various ethnic groups in the country.
Tales told on the programme seek to educate through entertainment. Nkem Orakwe, popularly called "Auntie" by many Nigerian children, narrated some five hundred slorics that popularised the classic folksongs of Nigeria. Generally, such stories portray a world in which human beings, animals, and spirits interrelate on the same level of reality. By winning in the youth category of the 1991 prized pieces International Video and Film competition, the Nigerian Television Authority, NTA claimed the Tales by Moonlight has not only created instant awareness for the artistic and technical quality of African programmes in the USA but also posed a challenge, which the programme directorate of the NTA has capitalised upon for greater achievements.
The National Black programming which adjudged the programme the best youth programme in Ohio is a clearing house for the best in African-American oriented film and television programming worldwide. The Prize Pieces competition was established by the national programming consortium to honour excellence in television and film production. It is also dedicated to acknowledging superior achievement in the development, production and presentation of programming depicting African and African-American people and their cultures throughout the world. In 1991, Tales by Moonlight was adjudged the best from over 50 entries submitted[i].
[i] TELL, November 21, 1991