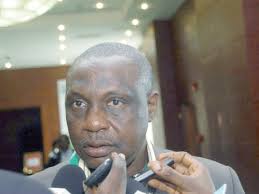 Taiwo Joseph Ogunjobi; Nigerian defender who later became a football administrator, born in 1953. Ogunjobi started the game of football from when he was growing up in Idi Oro in Mushin, Lagos. He attended Holy Trinity Primary School, Ebute Ero, and moved to his home town, Ilesha, where he had his secondry school education at African Church Grammar School and after that he went to Ibadan Grammar School for his Higher School Certificate (HSC). In 1973, shortly after the first ever National Sport Festival in Lagos, Coach Kola Taiwo and Sam Ojebode invited him to join Shooting Stars Sports Club of Ibadan.
At the national level, he played for the Academicals and later the Green Eagles in 1973 and 1974. In 1975, he travelled out to further his studies at Clemson University in the United States of America before returning to the country in 1980. Though he developed passion for football from a tender age but the schools he attended also helped. He later got scholarship to attend African Church Grammar School, Ilesha, because of his prowess in football, same for Ibadan Grammar School where he was offered scholarship to play for the school. At the school, Ogunjobi won the Principal Cup, which is the highest football honour for secondary schools in the state then. Even at Clemson University, South Carolina, he was given football scholarship.
It was from Shooting Stars of Ibadan that Ogunjobi  proceeded to study in the United States of America. He later handled the club and was its General Manager and later Sole Administrator and led the club to the finals of the CAF Champions' Cup in 1996 after winning the National League and Challenge Cup in 1995. He moved to the defunct Gabros FC of Nnewi where he exhibited his skill in football administration. Taiwo Ogunjobi was appointed the Secretary General of the then Nigeria Football Association (now Nigeria Football Federation).
Intrigues in 2006, the year of decline of Nigerian football, saw FIFA suspending Nigeria's participation in football following alleged interference of the Nigerian state in the administration of the sorts. Against the sports ministry's dictates, elections were held in Kano and Ibrahim Galadima, the National Football Association chairman polled 42 votes against Taiwo Ogunjobi's 24 votes to retain his position[i]. In that year, Ogunjobi emerged as the Chairman of Osun State Football Association, and was later appointed as Chairman of States Football Association Chairmen and also Chairman, Nigeria Football Federation Technical Committee in the same year. He was re-elected as Osun FA boss in 2011 and it was under his watch that Prime FC won the bronze medal during the 2012 Federation. Ogunjobi later became Secretary General of the NFF. Under controversial circumstances he was banned for 10 years over alleged irregularities in the transfer of former U-20 player, Kayode Olanrewaju, to an Ivoirien club[ii]. Skippo, as he is fondly called by his admirers, was in 2013 named the Pillar of Sports in the State of Osun[iii]. The Economic and Financial Crimes Commission (EFCC) in 2010 charged Ogunjobi, chairman, Sani Lulu and the two others to court for corrupt practices during their tenure at the federation[iv]. Ogunjobi died in 2019.
.
[i] Newswatch March 6, 2006
[ii] Guardian November 29, 2013
[iii] NATION October 9, 2016
[iv] Guardian April 17, 2015