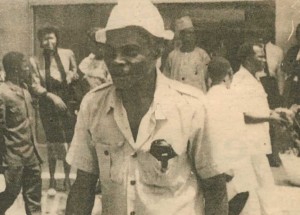 Tai Solarin; Activist and educationist. Solarin is known for his social experiments, which he deployed as a school proprietor, his minimalism, his atheistic disposition and his participation in the clamour for democracy. For announcing the military must relinquish power within six months in the mid-80s, Solarin was detained for 17 months in Jos[i]. He once jettisoned popular clamour and helped military Head of State, General Babangida to gain legitimacy by working for the Directorate for Roads and Rural Infrastructures (DFRRI) and later, serving as chairman of People Bank of Nigeria in the now unpopular Babangida administration. He soon retraced his steps and returned to Ikenne.
The Mayflower Project is considered to be Solarin's major legacy. An epitaph written by him 15 years before his death which was eventually inscribed on his tombstone at Ikenne reads; "Here lie the remains of Tai Solarin who lived and died for humanity."[ii]  In most of his adulthood, Solarin had no place for religion. As a principal in Molusi College, Ijebu Igbo, he prioritized science even though he was not a science teacher. He believed that science would equip his students with the necessary ingredients of development, hence did not allow them to concentrate so much in arts, which was his turf[iii]. Tai Solarin died July 27, 1994 at 78 years.
Family
Tai and Sheila got wedded in 1953, and they were married for 41 years before he died, partnering on many fronts. Sheila won 2 million naira for the Mayflower school in a TV quiz program in 2011 and also won a priced award from the Chris Okotie church in 2007.
 
Contemporaries
Olisa Agbakoba, president of the Civil Liberties Organization (CLO), Dr. Beko Ransome-Kuti, president of the Campaign for Democracy, and Clement Nwakwo, president of Constitutional Right Project, (CRP) organised the mass protest of July 5,1993 against the annulment of that year's presidential election. He also joined Professor Wole Soyinka on his 60th birthday freedom walk in Lagos three days before his death[iv].
 
[i] The News September 21, 2009
[ii] Tell May 26, 1996
[iii] Punch June 1, 2013
[iv] ThisDay July 28, 1996