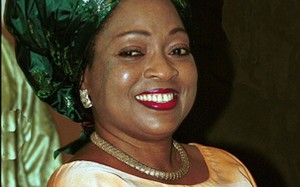 Stella Obasanjo; First Lady of the Federal Republic of Nigeria from 1999 till her demise in October, 2005. Stella was praised as a stablising influence in the nation's turbulent political turf and a leash on the husband's mercurial temper. Her visits to Yola  during the incarceration of her husband by the Abacha regime on charges of coup plotting took several days often[i].
Mrs. Obasanjo's project that was named the Child Care Trust was designed to minister to the needs of the Nigerian child and it borrowed a leaf from Better Life Project (BLP) of Mrs. Maryam Babangida and the Family Support Programme of Mrs. Maryam Abacha[ii].
Born November 14, 1945, in Warri, Delta State, Stella attended Our Lady of Apostles Primary School, Yaba, Lagos, 1955-1959. Thereafter, she went to St. Theresa's College, Ibadan, Oyo State, and passed her West African School Certificate Examination in Division One.
In 1966, Stella passed the Higher School Certificate, HSC, and then proceeded to the then University of Ife, now Obafemi Awolowo University, to study English, 1967 to 1969. Between 1970 and 1974, she studied Insurance in London and Edinburgh, Scotland. She also qualified as a confidential secretary at Pitman's College in 1976.
Stella returned to Nigeria in  1976 and married Olusegun Obasanjo, then a military head of state, the same year, under traditional laws and customs. She was a staunch Catholic, and she formally got married to the President in church in April,2005, in a most quiet and private ceremony unknown to many.
Stella held many traditional titles. She also had many international awards, including the Indira Gandhi Award for Women of Substance and The Peace Award given by Liberia International in Oxford, England, both in 1996; Africa achievement Award, Los Angeles, US, 2000; Global Safe Motherhood Award, White Ribbon Alliance for Safe Motherhood, 2001; and International Recognition Award on Women and AIDS, 2000, among others [iii].
[i] Punch July 20, 1996
[ii] The News July 7, 2003
[iii] TELL November 14, 2005