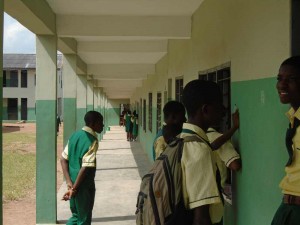 Smith International Baptist Academy, Ogbomoso (SIBAO) is a secondary school, one of the several learning institutions located within the Nigerian Baptist Theological Seminary, Ogbomoso. It runs a coeducational programme and has boarding facilities for students who reside in the school. The present student population is a little over 900. The school colours are green and yellow, which signify growth and strength respectively, and school motto is 'Faith, Knowledge and Service'.
 
History
The school was founded on October 18, 1999 by Reverend Professor Yusufu Ameh Obaje and named after Reverend Charles Edwin Smith, the founding principal of the Nigerian Baptist Theological Seminary, Ogbomoso. At the time of SIBAO's founding, a preschool and a primary school had already been established within the Seminary, hence the need for a secondary school. Since its inception, the office of the principal has been occupied by four people: Reverend T.G Adegboye, who was the pioneer principal; Mr P.E.U Enahoro; Late Mrs G.A Adeyemo; and Reverend Adewale A. Alaba, the incumbent principal. The school has graduated nine sets of students in all since its inception.
 
Academic Organization & Administration
The President of the Nigerian Baptist Theological Seminary is the official Proprietor of the school while its administration is led by the Principal, assisted by the Administrative Vice Principal and the Academic Vice Principal. The various departments (including Departments of Sciences, Language, Arts, Business Studies, and Social Studies) are headed by Heads of Department who oversee the teachers and are responsible to the principal. Each class has a form teacher that sees to its smooth running; a class captain and his assistant are accountable to the form teacher on the class' matters. A team of about thirty prefects who are chosen from the senior school every academic year also help the school authority to maintain order.
The academic curriculum is congruent with the 9-3-4 education system and the school is fully accredited by West African Examination Council and National Examination Council. Learning is facilitated with ICT facilities, Studios, and Laboratories. Admission into either the junior school or senior school is secured by both written and oral tests and interviews. The junior school academic curriculum consists of fifteen compulsory subjects, including pre-vocational subjects. Every student is registered for both Oyo State Junior Secondary Certificate Examinations and National Examination Council Junior Secondary Certificate Examinations. In the senior school, the curriculum consists of twenty-one subjects in all, four of which are compulsory for all students (English, Mathematics, a Nigerian Language subject, and a Vocational subject). A minimum of three others are also selected by each student, depending on whether he chooses to study in the Arts, Commerce or Science Department. The students are registered for both West African Examination Council Senior Secondary Certificate Examinations and National Examination Council Senior Secondary Certificate Examinations.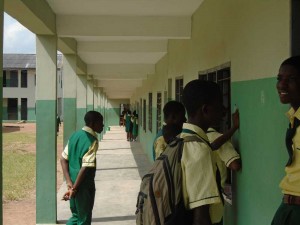 Co-curricular Activities
Along with the academic activities, the school also runs and participates in a number of other activities which include quizzes, debates and essay competitions at zonal, state, and national levels; annual inter-house sports competitions; and games (soccer, basketball and tennis). School clubs which include JET (Junior Engineers and Technicians), Press, Cultural, and Farmers Clubs also meet regularly. Religious programmes are not left out; the school meets for Christian Fellowship every Friday and the boarding students worship in the school chapel on Sundays. The chapel runs its own Royal Ambassadors as well as Girls Auxiliary units; these are fellowship groups of the Nigerian Baptist Convention for boys and girls respectively. The school also has a choir which performs at school events.
Blessed Students of SIBAO
We live by faith in God
In Him as the Lord of all
Our mountains shall be levelled.
 Blessed Students of SIBAO
We must study hard to increase our knowledge
By the help of our great teachers
We shall rise to great heights.
Blessed Students of SIBAO
We surrender our faith and knowledge
In service to God and humanity
True greatness shall be ours.