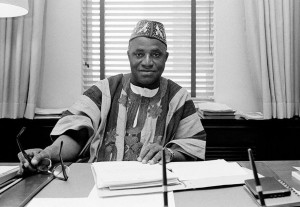 Simeon Adebo; Public servant of the Nigerian first post-colonial generation. He was head of the Western region civil service during the political impasse that led to the Emergency rule which was declared on 29 May 1962, hence had had to interpret the role of civil servants in the uncertain passage of leadership from Premier Ladoke Akintola and Alhaji Adegbenro. Shortly before this time, Adebo had played key role in transitioning the civil service to the modern system from its old method where departments, mostly professional, are autonomous and report to government civil or financial secretary. In this new system, he had compromised to assuage the sentiments of professionals who now have to function under the administrative class, by attaching to top posts in certain professional divisions a salary at per or above that of the Permanent Secretary.
Origin
Simeon Adebo's father was a farmer and one-time member of the constabulary in Itoko, an Egba township which was, according to history the first to arrive and settle in Abeokuta[1]. A man of moderate means, the old Adebo held a chieftaincy title in the town of Itoko, which his son succeeds decades later. Itoko, later to be eroded by the waves of Christianity and Islam, was home to a strong Egungun cult of ancestor worship. Although Simeon's father was pagan, he showed respect and admiration to Canon Josiah Kuti who made constant entreaties for him to convert. Unlike him, his wife Fowotade accepted to be baptized at the age of 74 and spent the rest of her life staunchly Christian. Simeon's mother, Fowotade hail from Imala, a small town thirty kilometers outside Abeokuta.
Places of Growth
Simeon Adebo was born 5 October 1913 in Itoko, an Egba town within Abeokuta, which was at the time, one of the biggest, with a population of about 10,000. Ake apparently was not a long trek, as he recalls sneaking out of his father's compound at seven years to go witness the coronation of Oba Ladapo Ademola. Although he was in St. Peter's School for only five years, his moral foundations were according to him, practically all laid there. In January 1927 he resumed studentship of Abeokuta Grammar School under the principalship of W.R.B. Kuye. Asides being top in his class, he made good use of the small school library and availed himself the knowledge of extracurricular subjects. Adebo responded to a federal government announcement of a 4-year 31 scholarship slots to King's College, Lagos. In 1929, he entered the school, the only government full-secondary school at the time, strikingly better than his former school. He left in 1932, triumphant in his academics, and conscious than ever before of his Nigerian nationality.
Travels
Simeon Adebo set sail with his wife for England in 1948, with a mission to study. In 1953 he enjoyed a fellowship by United Nations Educational, Social and Cultural Organization UNESCO to understudy Canadian economy. His visit to London two years later in his new role at the Nigeria Western Region civil service was to review the structure and staffing of the Western Region London office.
Relationships
Childhood
Though a religious festival, Adebo and other kids were entertained by the sight of the masked "citizens of heaven" during Egungun. On New Year's Day, 1923 he got baptized into the Anglican Church ahead of his parents. The joys of his childhood were not impaired by school work as he was gifted in them. Life at school contrasted sharply with one in the farm, which he remembers as very tough. Canon Kuti and an elderly cousin had saved him a relapse into that life after his primary education and he, after satisfying his father's condition of passing the entrance exam, got a place in the community grammar school in Abeokuta.
Family
Simeon Adebo was second of his parent's four children, with all growing to advanced age. In July 1941 he and Regina Abimbola, daughter of D.A. Majekodunmi of Abeokuta had their wedding at St. Jude's Church Ebute Metta where he was for many years a Sunday school teacher. Their first child, a lady, who read law at the University of London was born in 1942. Omolayo born in 1944 became a medical doctor.
 
Contemporaries
In his memoirs, Adebo recalls renowned artist, Aina Onabolu, the Arts Master as a perfect Christian gentleman. He was the junior boy assistant, called fag, to prefect, and the future Sir Louis Mbanefor, Chief Justice of the Eastern region, and C. Dadi Onyeama who is to become Judge of the International Court of Justice at the Hague in turn did him the honour when he was prefect. J.K Randle was the most outstanding cricketer and footballer in his years in King's. While working at the Railway service, he was joined at the  Accounting department by Bode Thomas, S.L. Akintola, and T.O Elias who were to become chief government functionaries. Michael Imododu, known to the history of unionism was also a colleague. At the London School of Economics, he met Godfrey Amachree of the United Nations and J.O Udoji, who became head of the historic Udoji Commission on public service remuneration.
Experience
Though committed to returning to Abeokuta Grammar School to teach, non-readiness of the new school principal, Rev. I.O Ransome-Kuti would drive him to taking an offer at UAC earlier recommended to him. He had barely settled to work at UAC when another opportunity surfaced at the Nigerian Railway. For nine years there, he accumulated Accounting certificates and distinguished himself accordingly. His involvement with unionism expectedly depreciated his relationship with authority and he took the smart turn, retraining for an alternative career. By 1953 however, he had been promoted as Assistant Financial Secretary. With the regionalization of Nigeria in that year, he was transferred to deputize the Permanent Secretary in the Ministry of Finance of the Western region.
The ruling party in the West, the Action Group, under Obafemi Awolowo rolled out the Universal Primary Education scheme in 1955. As the chief civil servant in charge of finance, Adebo endured the anxiety of having to starve other services in favour of the scheme. He advised the liberalization of scholarship conditions which obliges beneficiaries to serve in the Civil Service. By so doing, Awolowo's government raised a generation of beneficiaries who made their contributions to national development outside direct government service. In recognition of his quality, Adebo was offered the post of the Deputy Governor, by Premier Ladoke Akintola, one which he considered unnecessary and have earlier criticized. As Permanent Secretary, Simeon Adebo played key role in the 1960 Nigerianization of the chief posts, working in concert with the Premier's and Executive Council secretary, Saburi Biobaku. The Premier chose later to appoint him as Secretary to the Government and Head of the Civil service.  Apparently through the recommendation of a Ghanaian acquaintance in the United Nations, he was offered the post of the Director of Public Administration in the organization's headquarters at New York. Before he could forward his acceptance, another offer from Prime Minister Tafa Balewa had reached him. He left Ibadan on 24 June 1962 therefore to take his new position as the Nigerian Ambassador to the United Nations in New York.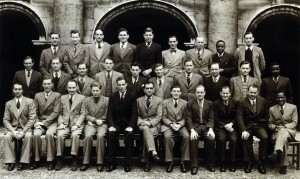 Education
Adebo enrolled at the University Correspondence College, Cambridge for English and Latin and was awarded a degree in 1939. As his interest in the civil service waned, he decided to pursue the LLB degree of London University through same correspondence program he had used for his arts bachelors. He was opportune to go beyond self-education when in 1948, he acquired funds to actually travel and pursue qualifications needed for becoming a barrister, from Cambridge. This he did, to provide himself a safety valve in case he had to leave the Civil Service.
Affiliates
Adebo was in the service of his Anglican diocese long time, and in 1961, he was asked to chair the CMS Bookshops Association.  He also became Vice President of the newly formed Ibadan Rotary Club in 1961. In October of the same year he was invited by the Prime Minister to be a member of the Nigerian Institute of International Affairs, under the chairmanship of Adetokunbo Ademola, a Nigerian forum for research and dialogue in International Affairs. In 1969, he was appointed Executive Director of the United Nations Institute for Training and Research in New York.