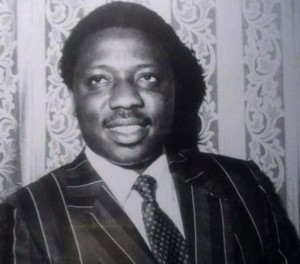 Sikiru Ayinde; Icon and one of the originators of Fuji music, which was originally a local subgenre called Were, used in waking up the Muslim faithfuls for the dawn-food in the month of fasting (ramadan). Beginning from 1958, Sikiru Ayinde was in the forefront of the popularisation of Fuji in its Nigeria place of birth and abroad. As an artist, Sikiru Ayinde paid attention to the philosophy propagated in his songs and he employs stories, anecdotes, proverbs, aphorisms in enhancing its quality.
The music of Sikiru Ayinde  veers off the dancehall fuji subgenre with its emphasis on patience, caution, perseverance, and the inevitability of good triumphing over evil. Critics condemns Sikiru Ayinde's collection as undanceable and out of tune with the vogue in contemporary fuji music. In the middle of his career, Ayinde took a risk in joining the type of fuji reported to be in vogue but repented shortly. His often bland style found its way to Owambe parties nevertheless and dominated the local airwaves even.  Ayinde Barrister endeavoured to take Fuji beyond the confines of the Yoruba world to other tribes in Nigeria and beyond as he rendered songs in Hausa, Igbo, Igun, Tapa, English, Indian, and Arabic. This initiative he found rewarding.
Origin
Sikiru Ayinde was bom February 9, 1948 in Lagos to muslim parents; Salawudeen Balogun of Ibadan and  Sifawu Odee Balogun, a descendant of three traditional kingship lineages in Lagos.
Education
Sikiru Ayinde  attended Muslim mission school in Mushin from 1955-1960 and went to the Yaba Technical College Yaba, Lagos from 1961-1963 but did not complete his programme due to financial restraints. Ayinde worked briefly at the Nigerian Breweries as a copy typist before enlisting in the NigerianArmy, in October 1967. While in service, he was in the 2nd Division, 10 Brigade of the Nigerian Army and rose to the rank of Sergeant before voluntarily discharging in February 1976. Due to these experiences, considered prestigious in his day, Ayinde Barrister often brag in  some of his live shows that he is versed in religious and western education and know the meaning of whatever he sings.
Travels
Sikiru Ayinde was made the Sarkin Waka Kano by the Emir of Kano, Ado Bayero, and he earned similar titles in different communities in Yoruba land and abroad. In his career he made tours to Britain, USA, Canada, and Japan.
Contemporaries
Wasiu Ayinde, also a popular Fuji musician was once in Sikiru Ayinde's band and has mentioned Sikiru as his musical father. Rasheed Ayinde called Serubawon and Saiafadeen Ayinde have also voiced their recognition of Sikiru Ayinde Barrister as their mentor.
Experience
Although Ayinde Barrister maintained philosophical aloofness in most of his work, he often treats social issues in his songs, one being 1994 album, The Truth in the midst of the crisis following the annulment of the June 12, 1993 Nigerian presidential election.
Accomplishments
Sikiru Ayinde  was given an honorary doctorate degree in music by City University of Los Angeles in July 1985; made an African International Music Ambassador by African International Music Confederation in New York in 1984, tagged the music legend of the commonwealth by Chief Emeka Anyaoku, the commonwealth Secretary General in September 1990. Also, he was honoured twice by Performing Arts Association, PMAN as Best Fuji Artiste of the year in 1989/90 and Best Traditional musician of the year 1988/89.