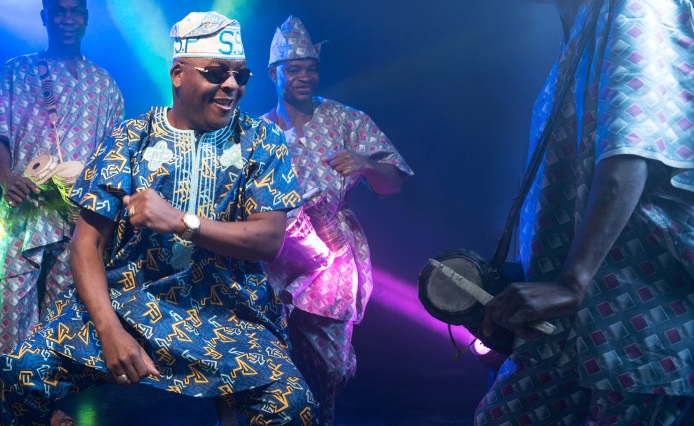 Oluwashina Akanbi Peters, popularly known as Sir Shina Peters (SSP) was born 30th May 1958 in Ogun State. SSP's childhood was like most children's, he had strict parents who wanted the best for him, he attended Ebenezer African Church School, Ijoko-Ota Ogun State for his primary education and Baptist Boys High School, Olivet Baptist High School Oyo and St. Peter School, Abeokuta. However, schooling was a battle between he and his parents, because of his special love for music, even as a child, he and his best friend Sakiru, who was also his landlords son, formed a band they called "Olushina and his 12 Fantastic Brothers Band". Though they never had electrical musical instruments, they used sticks to make guitars, they were like twin brothers who did everything together, and even their parents treated them equally. 2:00 am one morning, after deciding he wasn't going to school, SSP broke the news he wasn't going back to school in order to have time for his music, his parents were so furious they woke the neighbors including the landlorne to disuade the kid, but no one could talk him out of it, not even his best friend Sakiru who told that, he (sakiru) would become a doctor and would employ SSP, still that didn't make him change his mind about, he was cursed so other children would not follow his footsteps, then he left the house.


After leaving home, he went to Temiogbe Hotel and was offered shelter by a prostitute in a hotel, but she later accused him of stealing her money he had to leave; fortunately his parents had become worried and had started to search for him as he was told by his fether's friend Sergeant Ajagbe. He returned home, but continued visiting Mayflower Hotel, and on one of such visits, he met with the Miliki exponent, Ebenezer Obey, whom he told he(SSP) would like to sing, but Obey requested he bring his parents to stand as sureties, and since he couldn't provide them, he started helping Ebener Obey wash clothes and clean his shoes and when the musician wasn't home, he secretly played his guitar.
In 1960's, Shina's career started as a result that of playing the guitar with General Prince Adekunle, who accepted him and gave him a certain amount of fame, by calling him his son. Shina Omo Adekunle, (Shina Adekunle's son) this made people marvel. SSP, after a while, left him to form a group with Juju maestro Segun Adewale and they became Shina Adewale. Together, they released several albums through the 1980's; eventually Shina Peters left to form his own band, named "Sir Shina Peters & his International Stars". The group released their first album in 1989 "Ace" (Afro –Juju Series1), the album went double platinum. It was so successful it shot Shina to the back to the top. At the time Ace was the in thing, a musical fusion of Juju and Afro beat; a rhythmic collaboration that broke cultural and language barriers. They relased a second album titled "Shinamania" (Afro-Juju Series2). by now Sir Shina Peters was a household name, everyone knew and loved his songs. He and his band set out to revolutionize music; they created the Afro-Juju. Sir Shina Peters was on top of his game for while before tragedy hit, he was in a car accident, not long after his house burnt down with everything in it. The only thing he had was the clothes on his back, but he got back up with the help of Oba Dapo Tejuosho, Dr. Olusola Saraki, and M.K. O Abiola. He has released 16 albums, which has earned him numerous awards. His music has been heard beyond the shores of Nigeria, in South Africa, Europe, Germany, United Kingdom, Italy, United States.
Sir Shina Peters had relationships with many women and has several children. However, the birth of his first son, Clinton gave him special joy as it took him and his wife 20 years for his potency had been in question. He also has a son, Clarence Peters, with Nollywood actress, Clarion Chukwura. Clarence a multimedia entrepreneur.