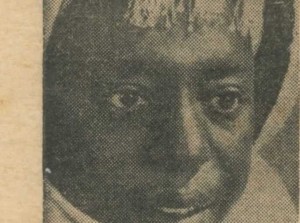 Shehu Idris; Nigerian monarch in the northern region, in 1975 ascended the throne as Emir of Zauzzau corrupted as Zaria by the British Colonialists, a position in which he carried out traditional responsibilities, conflict resolution among his subjects with an obligation to give every issue the sense of urgency and objectivity it deserves. His installation as the 18th Emir of Zaria in the then North-Central State drew unprecedented crowd of well over 100,000 spectators at the Zaria Race Course. His reign came after Alhaji Muhammadu Aminu's. Idris was a man of enormous influence and a story was once told of how Head of State General Sani Abacha reprimanded a former Military Governor of Kaduna State for daring to be rude to the Emir. However, the Atyap (Kataf) and Bajju chiefdoms were carved out of Zazzau emirate by the youthful administrator of Kaduna State, Colonel Lawal Ja'afaru Isa[i] to Shehu's disappointment.
Born on February 20, 1936, in Zaria, Shehu Idris after his Primary and Secondary education attended Katsina Training College, from where he proceeded to the Institute of Administration at the Ahmadu Bello University, Zaria. Between 1958-61, the Emir worked with the Zaria Native Authority Treasury. He was the Confidential Secretary to the Emir of Zauzzau between 1961-62, after which he was appointed as the District Head of Zaria and Kewaye[ii].
Apart from his investments which cut across numerous blue-chip companies, Shehu Idris is also a Director in both United African Company of Nigeria (UACN) and Nigerian Tobacco Company. He is the Pro Chancellor, University of Technology, Minna, Niger State and has been a member of Nigerian Institute of Management In 1985, he was honoured by the Federal Government ofNigeria with the award of Commander of the Order of the Federal Republic (OFR). He holds the Honourary Doctorate Degree of Law from the University of Jos.
 
[i] Tempo November 9, 1995
[ii] City People December 15, 2004