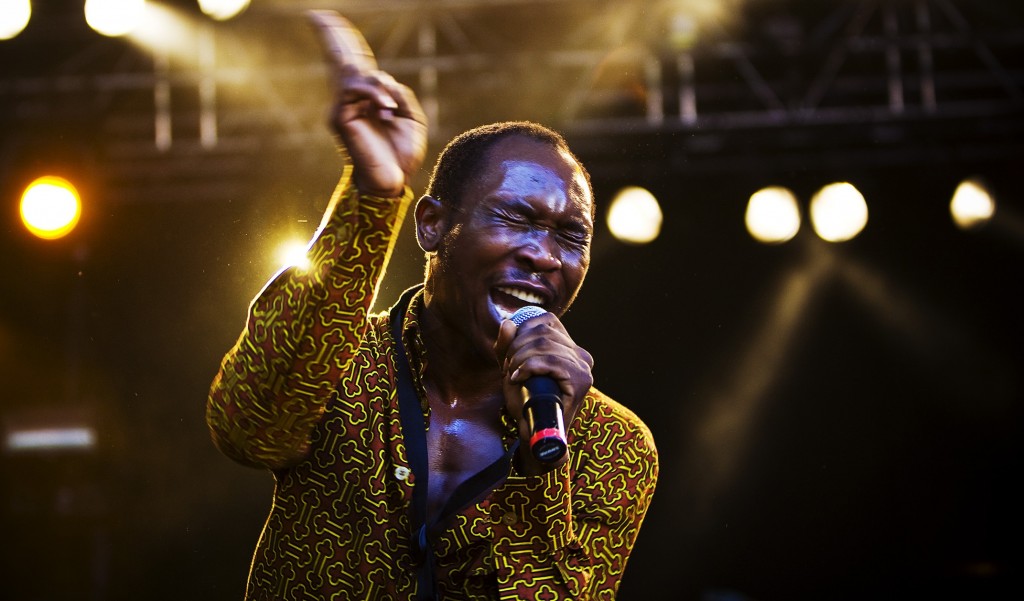 Oluwaseun Anikulapo Kuti, simply called Seun Kuti, was born 11th January 1983, to legendary afrobeat musician, Fela Kuti. Seun is the youngest of Fela's sons. He grew up around music and started playing saxophone and piano at the age of 9, also expressed his wish to sing to his father and in a short while, he became sort of a mascot for his father's band. He would sing a few songs and the band Egypt 80' would back him up, before his father took the stage. Growing up around his father and his band, he developed the same political and social ethos of his father. Though, while doing music Seun attended school and had to choose between a career in music and one in football, but after his father's death in 1997 at age 14, Seun took over lead of Egypt 80' his father's band and has since been their leader. Seun like his father, Fela Kuti, travelled to the United Kingdom to study Music at the Liverpool Institute for Performing Arts. There he joined an African Funk band named River Niger.
The young man's individual identity, separate from his father's finally surfaced at the release of his debut album titled 'Many Things' in 2008, produced by Martin Meissonnier, who had already produced two albums for Fela Kuti. Seun's band consist of the same men who played with his father, except for his bass guitarist who is young and new to the band, Seun is the youngest member of the band as they are all either in their  40's, 50's or 60's. However, Seun's Younger sister, Motunrayo Kuti, dances in his band as well. In 2011, Seun released a second album, studio recorded, titled "From Africa with Fury" in April 5th 2011. The album was recorded in London, produced by Brian Eno, John Reynolds and Seun Kuti himself. In 2010 Seun featured in Calle 13's song "Todo se mueve" (Everything Moves) on their 2010 album "Entren los que quieren". In 2012, Seun passipated actively in the Occupy Nigeria protests against fuel subsidy removal policy of President Goodluck Jonathan of Nigeria. Seun and the Egypt 80' band are working on the release of their 3rd album in 2013 -2014, although they play some of Fela songs, they have been able to cover more grounds than Fela in his time, having had three world tours. Seun is one of the three children of Fela who is very prominent in their struggle in making Nigeria a better place. He is currently under the Knitting Factory Records and is still making good music, while going on his tours. If he had not become a singer his other career path was football (soccer).
Seun is one of the children of the many wives of  Fela kuti, his half siblings are; afro beat king, Femi Kuti, Yeni Kuti, Sola Kuti, Mosun Kuti and Motunrayo Kuti . Seun has been affiliated with Yetunde George Ademuluyi, his dancer and love interest who also is expecting his baby, she was resident in Paris.