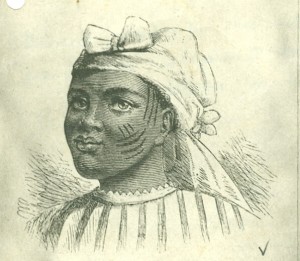 Sarah Forbes Bonetta was the name given to the lady of regal manners from the Egbado extraction of western Nigeria, who enjoyed close relationship with and was mentored by Victoria, Queen of England. Bonnetta was born in 1843 at Okeadan village. When she was only four years old, King Gezo of Dahomey visited her village with a raid that killed her parents and siblings. Sarah was captured, but for reasons of her high birth was reserved for the King, who, in some account, planned to have her sacrificed. In 1849, Captain Federick Forbes of the Royal Navy landed his HMS Bonnetta ship in Dahomey with a message from his queen, persuading Gezo against slave trade. There he noticed the young slave girl, Aina, whose transfer to his queen he negotiated; "A gift to the white queen from a king of Africa."
In his Journal, Federick would record of the girl who he renamed after himself and his boat; "she is a perfect genius. She now speaks English well and has great talent for music. She is far in advance of any white child of her age in aptness of learning and strength of mind and affection." Sarah lived with Federick in his African station.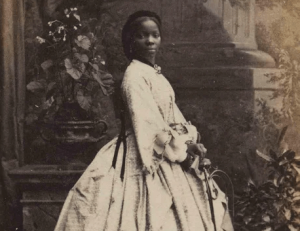 On the 9 November, 1850, Sarah met Queen Victoria at the Winsor Castle, and the Queen, impressed by her abilities, instituted for her an allowance and adopted her as a goddaughter, entrusting her care to the Schoen family in Palm Collage, Gillingham few months after when Frederick died. The Schoens raised Sarah at Chatam in the British Victorian middle class, and with the Queen's permission, had her sent to Sierra Leone for her education because of the condition of her lungs which favoured tropical weather.
Sarah, being unhappy in her African school, the Sierra Leone Missionary Female Institution, was returned to England. After an initial rejection of the Queen's sanction, Sarah was married in an elaborate ceremony in August 1862 to James Pinston Labulo Davies, a wealthy Yoruba businessman living in Britain. Sarah was eighteen while Labulo was thirty-one years old. The couple moved to Lagos, Nigeria shortly after the wedding. Sarah had children in quick succession, and her daughter, Victoria Davies, named after the Queen, equally became the Royal's goddaughter.
In 1880, Sarah went to Funchal, capital city of the Portuguese island, Madeira where she was diagnosed with tuberculosis, and there she died. A monument in her honor was erected by husband, Labulo Davies, at Ijon, Lagos.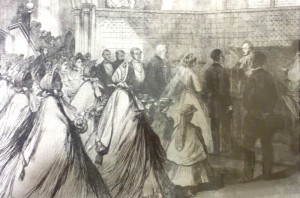 Sarah was a gifted lady, loved by many at the Queen's court where she frequently called. She was opinionated too, refusing even her godmother initially who commanded her to marry Labulo, a gentleman in whose intellect the Queen was equally delighted. The place Sarah was sent to stay with two elderly ladies at this time, she called a little pig sty. Her daughter, Victoria Davies was married to Lagos physician, John Randle.