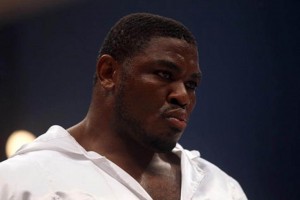 Samuel Okon Peter; Nigerian World Boxing Council, WBC Heavy weight Champion. After a poor outing at the Sidney 2000 Olympics, Peter prepared for his debut international professional match under the auspices of Svailo Gotzev, renowned boxing manager. With a first-round knockout of opponent on 6 February 2001, and a couple of others at the Palace of Sport, Alma Ata, Kazakhstan, Samuel Peter's reputation took a steady climb. This was followed by a streak of wins; an impressive 18 knockouts which generated frenzy in the American media. On 22 January 2005, Peter Samuel became the United States Boxing Association's national heavyweight belt.
Place of Growth
Born in 1981, Peter Okon had his primary education at St. Phillip's Lutheran Primary School, in Ediene Ikot Obio Imo, Uyo village in Akwa Ibom state.
Education
Peter Okon enrolled in Government Technical College, Ewet to learn a trade in Auto Technology. He was enlisted in the Nigeria Police Force where he represented the Akwa Ibom State Command in the Police Games.
Contemporaries
Duncan Dokiwari, Silver Medalist at the Atlanta '96 Games was a  regular sparring partner to Samuel Peter at the National camp in Lagos.
Experience
As an officer of the Akwa Ibom State Police Command, Peter won the attention of his state's military administrator Navy Captain Joseph Adewusi with his athletic performance in a game event. Adewusi subsequently hired Peter Coach Akinwumi Dada to help nurture his talent. At the National Sports Festival in Makurdi, Samuel Peter Okon had his big break when he was discovered by Hogan Kid Bassey, former World Featherweight Boxing Champion who was then the national boxing coach. Peter Samuel moved to Lagos subsequently to begin a career in boxing, scoring several early wins with his victory over Gueorgui Christov, James Lester, George Chamberlain, Shannon Head and Freddy Gatica. Peter's reputation was further established when he vanquished Charles Shufford on 17 May 2004, and Jovo Pudar on 5 August 2004. With a decisive victory over veteran Jeremy Williams in Las Vegas Peter emerged the American Boxing Federation Continental heavyweight. As the year 2005 opened, Peter conquered Yanqui Diaz in Miami to claim the United States Boxing Association's national heavyweight belt. His status moved from an interim champion to substantive title holder on March 2, 2008 when he knocked out Maskaev in Round Six of the scheduled 12-round WBC title fight in Cancun, Mexico[i].
[i] The News March 31, 2008