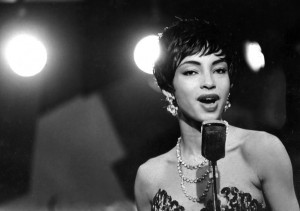 Helen Folashade Adu, popularly known as Sade Adu was born 16th January 1959, in Ibadan, Oyo State Nigeria, to Adebisi Adu a lecturer economics, of Yoruba descent and Ann Hayes, an English district nurse, who met in London, married in 1955 and moved to Nigeria. Sade Adu's early years were in her home country Nigeria, but she and her older brother Banji Adu were taken back to England by their mother, when their parent's marriage became rocky, she grew up on the North End of London. Later on they moved to live just outside of Colchester, Essex to live with their grandparents. At age eleven (11) she moved to Holland, to live with her mother, and after completing school at 18 she moved to London and attended Saint Martin's School of Arts to study fashion design. Sade developed a good singing voice during her teens, she worked part-time jobs in and outside of the music business, and she listened to Ray Charles, Billie Holliday, Al Green, Aretha Franklin, and Nina Simone.
 
Arriva, the beginning
In 1980 Sade started singing harmony with a Latin funk group called 'Arriva'. The group later performed Smooth Operator, that later became Sade's first stateside hit. It was originally co-written with band member Ray St. John. After a year with the group, Sade joined another group, this time an eight –piece Funk band called Pride as background singer, but her solo performance of Smooth Operator attracted the attention of record companies and in 1983, Sade signed a solo deal with Epic Records taking three members of the band, Stuart Matthewman, Andrew Hale and Paul Denman, with her. The band was named after her, Sade Adu and they produced their debut album titled Diamond Life in 1984 it was so successful it, was number 4 on the UK  Album Chart, selling over 1.2 million copies and no1 in several other countries and top 10 in the United States and sold 4 million copies. The album won the award for Best British Album in 1985. In late 1985, the band Sade released their second album titled Promise, which was also a huge success it peaked at No1 in the UK and US. it was certified double platinum in the UK and Quadruple platinum in the US.
 
Grammy & other Awards
In 1986, the band won a Grammy Award for Best New Artist. Sade released other albums, Stronger than Pride, Love Deluxe. Eight years after releasing Lover's Deluxe, Sade released Lover's Rock in the year 2000, it incorporated a more mainstream sound, particularly the chart- topping single By your Side two years after, with ensuing tour Sade was inspired to do her first live recording, Lovers Live after which she returned to the studio and released her sixth album "Soldier of Love" in February 2010. Sade Adu has received several awards; in 2002, she appeared on the Red Hot Organization's Red Hot and Riot, a compilation CD in tribute of fellow Nigerian Musician, Fela Kuti. In that same year she was made an Officer of the Order of the British Empire (OBE) by Prince Charles at the Buckingham Palace for services to music, which she dedicated to "all black women in England". She was also listed at number 30 on VH1'S 100Greatest Women in Music. She has been rated as the most successful solo female artist in British history, having sold over 110 million albums worldwide.
 
Transgender son
Sade Adu is known to be famously reclusive, squatted in Totteham in the 1980's with her then-boyfriend Robert Elms, and in 1989 she married Spanish film director Carlos Pliego, but the marriage ended in 1995. She met and dated Jamaican music producer Bob Morgan in 1995, she lived with him in the Caribbean for a while but returned to England, together they have a daughter, Ila Morgan Adu. The daughter's condition – gender dysphonia is reported to be the reason for her decision to transition fully to a male.