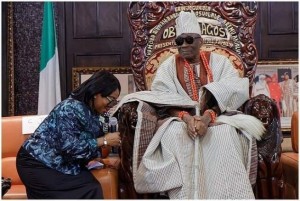 Rilwan Akiolu; the first Oba of Lagos to be crowned since the creation of the state in 1967. Oba Riiwanu Osuolanie Aremu Babatunde Akiolu was installed as the Oba of Lagos on Friday 23 May 2003. His focus has been the reintegration of social miscreants called area boys into the society. In a build-up to the 2015 gubernatorial elections in Lagos State, Akiolu made a controversial call to Igbo leaders in Lagos, to either support his candidate, Akinwunmi Ambode or perish in the lagoon, as tradition says of those who work against the throne. The Oba's palace swiftly issued a statement renouncing ill will against the Igbo[i]. Effects of his palace was carted away by hoodlums who hijacked the EndSARS protest which rocked the country in October, 2020[ii].
Origin
Rilwan Akiolu was born on 29 October 1943 to the families of Aromire Omilana and Ologun Agan, on the paternal side, while his mother descended from Onisiwo, Oloto and Sasore families. Young Prince Rilwan Akiolu then attended Ansar-Ud-Deen Primary and Secondary School.
 Education
Akiolu enrolled at the University of Lagos, Akoka to study Law.
 
Experience
Akiolu started his career in the police as a cadet inspector and rose to the position of Assistant Inspector General before his retirement in March, 2002. He was in legal practice until he was appointed the Oba of Lagos the following year. Akiolu had a successful career in the Nigeria Police Force before retiring as Assistant inspector-General of Police in charge of zone 8. He had also served in Lagos as Commissioner of Police in charge of Crimina Investigations Bureau. These two strategic positions are said to have played positive parts in his emergence as the Oba of Lagos[iii].
[i] Premium Times 6 April, 2015
[ii] The Vanguard 4 March, 2021
[iii] The News 13 October, 2008