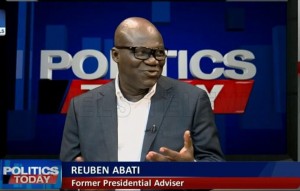 Reuben Abati; Public Servant and journalist known for his accomplishments as public intellectual and stints in media relations was born 1965 in Abeokuta. In 2011, Reuben Abati was appointed as the Special Adviser, Media and publicity and as official spokesperson to President Goodluck Jonathan, hence responsible for handling the president's media office, relation and the presidency public communications team till the president's failed re-election bid in 2015. His handling of the job has been criticized by some in the president's camp who believed Jonathan's lost was due to poor image management.
Abati's secondary education was at Lisabi Grammar school, Abeokuta from where he proceeded to the University of Calabar, graduating with first class honours in Theatre Arts in 1985. He later studied at the University of Ibadan as a scholar. While at the University of Ibadan Abati studied took a master's course in Dramatic Literature, Theory and Criticism which he completed in 1990. He holds a Ph.D in Theatre Arts, specializing in Dramatic Literature. He pursued yet another degree in Law from the University of Lagos in 1999 after obtaining a professional training certificate in Journalism from the College of Journalism, University of Maryland, College park, United states in 1997 as Hubert H. Humphrey.
Dr Reuben Abati started off his career when he was appointed to work as graduate assistance in the department of Theatre Arts at University of Benin, Edo state in 1985-1986. He later moved on to Ogun state where he was a lecturer, teaching courses in Dramaturgy, Theory and criticism, special author studies and the sociology of Literature, at the Olabisi Onabajo University, Ago-Iwoye from 1990 to 1991. He served as chairman, Editorial Board and Editorial Page Editor of the Guardian Newspaper and was a member of the Governing Council, Olabisi Onabajo University, Ago-Iwoye between 2003 and 2007.  Due to his multi-disciplinary background, he was co-opted as member of the Board of the Lagos state Security Trust Fund in the year 2007-2011. Dr Abati was amongst other profession in his career, a consultant in John Hopkins University, USAID, Nigeria. A consultant in UNICEF, Lagos 1995-1996, and consultant in Quality Assurance project.
After his period at the presidency, Dr Abati later returned to Journalism, writing in The Guardian Newspaper every Friday and Sunday. He moved to ThisDay Newspaper where he writes a Tuesday column and titled it Tuesday With Reuben Abati. He had his column in other newspapers like; Nigerian village square, Daily sketch, Democrat, Nigerian Tribune, Daily Times, Vanguard and the Punch newspaper respectively. He was a contributing Editor in Hints and Channel magazine, Lagos 1989-1990. And also in Hearts magazine in 1994-95. He has been a consultant in Africa Leadership forum, Ota, Ogun state since 1994. Abati has been vocal about social and political issues in Nigeria.