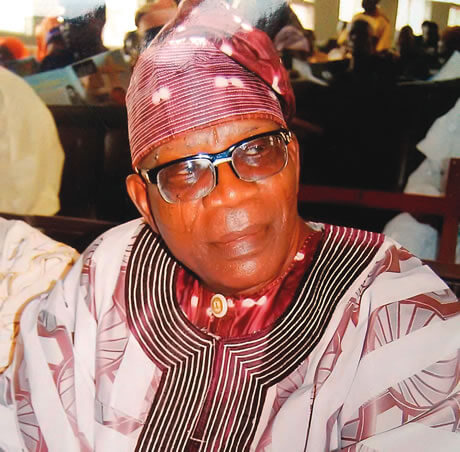 Rasaki Salawu; Pioneer Director of operations of the Federal Road Safety Corps, FRSC. In 1988, he was invited to head the newly formed FRSC based on his novel initiative that led eleven years before to the founding of the Oyo state corps on road safety which he ideated. Salawu fell out with the more renowned Wole Soyinka, chairman of the FRSC board who later instituted 30-count-charge against him.
 
Places of Growth
Salawu is from a rural setting in Egbeda in Ibadan. His intention growing up was to be a mechanical engineer. Salawu's father was among the elite in the community. He had a corn mill and ran a transport businesses. Salawu joined the Nigerian Army just after his 17th birthday as a cadet.
 
Travels
Salawu was trained in Germany, France, India, Pakistan, United Kingdom, United States to use armoured fighting vehicles to fight at the war front. While talking his ideas on traffic management to old Oyo state government, he  travelled to the UK and attended a course in Northampton Polytechnic which at the time was the largest school that offered road management courses.
 
Contemporaries
Areoye Oyebola, Omololu Olunlo, Bamidele Aiku, and Prof. Adetoye Faniran were part of the committee which rectified Salawu's proposal on traffic mangement. Wole Soyinka was the board chairman while he, Salawu coordinated the road safety project.
 
Experience
Before he left the army voluntarily in 1977, Salawu wrote articles for newspapers on accident prevention and anything that had to do with mechanical and ballistic engineering, survey and reconnaissance, intelligence report and other areas where he was trained as a soldier. On invitation of the old Oyo state military governor, David Jemibewon, who had cuttings of his works, he was asked to write a proposal on traffic and accident management. Thus Salawu founded and headed a corps tagged majamaja meaning dog chasers because of the greyhound logo of the project. His majamaja fizzled out after six years due to excesses of its men.
Subsequently, Salawu worked as a lecturer in Ladoke Akintola University of Technology teaching road and traffic management for 11 years. He also taught the same course in Tai Solarin University of Education[i].
 
[i] Punch May 16, 2015