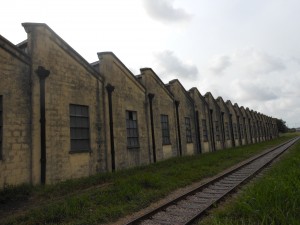 Railway Compound in Ebutte-Meta, Lagos is the original headquarters of Nigerian Railways, with residences for senior staff members. Since the foundation of the Nigerian railways in 1893 the building activity of this company has been expanded over the whole Nigeria, but it started in the former capital, Lagos. Some of the first railway stations still exist but most of them have been modified or renovated.
Within the railway compound, along federal roads, three houses built in 1905 are still to be found and the original features of colonial architecture can be recognized. Large verandas are situated in the front and back of the building, as well on the ground floor as on the first store, supported by round classical columns. The original wooden ventilation panel remained in some cases, but the condition of the woodwork in general needs attention to stop further decay.
Two additional senior staff residences along Bode Thomas road, dating from 1907, still exist. Some slight interior alterations have been made, but in essence these houses are in original shape.Also the main office building, which has been in use since 1912 remains in the original form and it shows the characteristics of the British Colonial Architecture. And while all over Lagos many colonial building have disappeared, some good examples remain to be seen within the Railway Compound in Ebutte-metta.