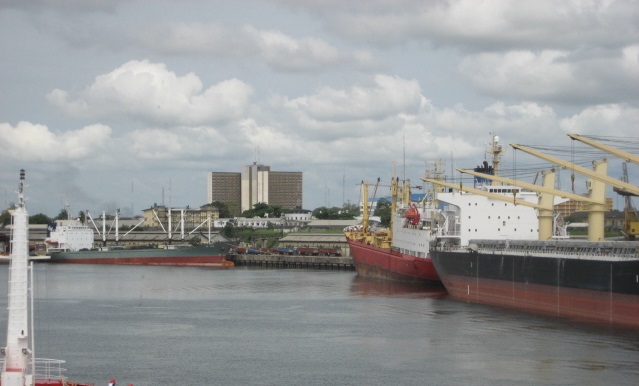 Port Harcourt is a Nigerian port city, on the northern bank of the Bonny River, 30 nautica miles from the Bight of Biafra in the Atlantic Ocean. The city, discovered while a small fishing port in 1901 by Viscount Harcourt, a colonial administrative officer became capital of the Rivers State, with the creation of Rivers in 1967 to encompass the several minority tribal groups of the former Eastern Nigerian region. The creation of Rivers had been anticipatory of rebellious acts from Igbo secessionists, and Port Harcourt was briefly part of their republic. Originally, Port Harcourt was part of the farmlands by Diobu, a village group of the Ikwerre subgroup of the Igbo, and was developed into a port town from 1912, for the purpose of exporting the coal deposits that had recently been discovered in Enugu. Federick Lugard, then, governor of the Northern and Southern Nigeria protectorates named the new town in honor of the man who first brought it into notice, Sir Harcourt.
At the inception of its modern history, Port Harcourt was a cluster of dense swamps, which makes it handicapped in a way. The city is low-lying and requires rigorous road engineering and drainage system. Development spearheaded by the Planning Authority constituted in 1947 was expedited with the siting of the Shell B.P. headquarters and other oil companies in the town. This attracted Dutch, French, Norweigian, German, Italian, and other expatriates to join the communities of minor Yoruba and Hausa groups and the largely represented igbo group that called it Ígú??ch.
 
 
Port Harcourt is in class of the most developed metropolis in Nigeria, and often recounted as the oil capital. Living is consequently more expensive than in other state capitals. Population rose fast, for example, from 1.3 in 2006 to 1.8 million ten years later. This is due to the influx of people from Niger Delta towns being the most important city of the region. The city was plagued in 2006 by militant activities of Ijaw youths agitating for a better deal from the federal government, and surrounding creeks became the theater of the raging Niger Delta conflict. From 2007, urban renewal policies were been made and implemented to return the city to this status. An ambitious plan was launched in 2012 by Governor Ameachi to decongest the center of the Port Harcourt city in favor of the Greater Port Harcourt consisting of outposts like Obio/Akpor, Ikwerre, Etche, Oyigbo, Eleme, Okrika and Ogu/Bolo.
Existential problems mar the 'gardenness' of Garden City. With a metropolitan area of 934 square kilometres and a population of 920,793, Port Harcourt has a population density of 985.9 persons per square kilometre. A third of Rivers State's 3.7 million population resides in-Port Harcourt, made up of two local governments out of the state's 23. The middle and lower class residential' districts' are era shingly choking. When it rains, which is often, the Garden City is at its worst. Located in the Niger Delta with a topography of flat plains emptying in a labyrinth of rivers and tributaries, Rivers State has a sub-equatorial climate of two seasons only, wet season of eight months from March to October and dry season of less than four months from November to February. Port Harcourt is, therefore, wet and wild[i].
A deliberate effort to synthesize a genial culture for this city with much hustle brought about the Port Harcourt book festival in which publishers, writers and enthusiasts meet in series of conferences and shows. Sessions have been had with Nobel laureate, Wole Soyinka, and President Jonathan in attendance. In 2014, UNESCO declared Port Harcourt the World Book Capital. The city's international airport is one of the country's busiest, and its University of Port Harcourt in Chiba has a Teaching Hospital in the East-West road. Port Harcourt has a thriving night life and pop culture portends a frail but significant competition to Lagos'. Artistes like Duncan Mighty have their career off-shooting from there.
[i] TELL December 22, 2003