Plane Crash; Over a thousand lives has been lost to plane crashes in Nigeria since the first recorded incidence  which occurred on November 20, 1969 when a government-owned DC-10 aircraft on a flight from London crash-landed in Lagos. It killed all 87 passengers and crew on board. Several causes have been adduced to aviation accidents, from the bizarre to the one blamed on negligence or human error.
Bird and wildlife strikes to aircraft, among the bizarre, cause thousands of dollars in damage to aircraft in Nigeria. These strikes put the lives of aircrew and their passengers at risk. Statistics reveal that since 1988, over 195 people have been killed worldwide as a result of wildlife strikes. This number of deaths in 19 years may appear unalarming, but the danger always looms that a major havoc may be visited by these birds upon an aircraft, with fatal consequences. Birdstrikes have so far occurred on 66 occasions at different airports in Nigeria, but leading to mere air returns rather than major disasters. Beyond the threat to human life, the burden of repair of damaged aircraft parts resulting from birdstrikes is not so insignificant as to be overlooked.
Wildlife control strategies are based on one factor, which is: making the airports less attractive to birds. Through habitat management, bird population can be controlled by simply reducing the things that attract birds into the aerodrome in the first place. Many of the birds are migratory, in search of food, such as seeds, insects, small animals and garbage. Other attractions for birds include roosts (where birds nest), water, and rubbish. Even grass draws the attention of birds. The spate of bird attacks of aircraft prompted the Nigerian federal government to approve N17,15 million for the aviation industry to acquire additional equipment for tackling the bird strike menace. The fund is to further aid FAAN in its bird hazard management implementation programme across the nation's airports. Not a single airport is spared in Nigeria[i].
Aviation accidents in Nigeria.
1970s-80s
A Boeing 707 plane crashed in Kano in 1973, killing 171 Nigerian Muslims returning from Mecca and 5 crewmen. In March 1978 a former-28 Nigeria Airways crashed in Kano, 16 people died in the crash. On December 3, 1988, Nigeria Airways Forker-28 crashed in Enugu, killing 103 passengers while in December 1988, a Skypower Brandeironte aircraft overshot florin Airport runway and killed all the passengers on board.
1990s
Nine people on board of a British Helicopter which crashed in Eket, Akwa Ibom State February 24, 1991 were killed. Three died when an Okada Air Bac-11 also crashed in Sokoto on May 21,1991. On September 26, 1992 a NAFC-130 Hercules from Lagos to Kaduna crashed at Ejigbo, Lagos killing all the 157 military officers. Ibrahim Abacha, first son of Head of State, General Sani Abacha, and 13 others was killed in a plane crash on 17 January 1996 while on September 12, 1997 a NAF Dornier 228-212 in Nguru, Bomo State ran into a ditch during the take off, with all 10 people on board surviving.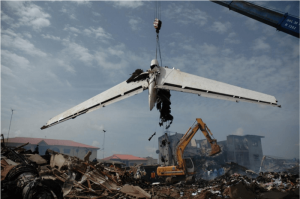 2000-2004
A Dornier aircraft plunged into a thick bush in the Niger Delta, October 26, 2000 with the 6 occupants only sustaining injuries. On May 4, 2002, an EAS Airline BAC 1-11 bound for Lagos from Kano plowed into a poor, densely populated sub- air-port environment. The Abuja bound MD83 air- craft with 97 passengers on board took off at the domestic runway of the Murtala Muhammed Airport. In sameyear, aircraft with 90 passengers MD83, hit the perimeter fence of the General Aviation Terminal (GAT) in Lagos. On December 29, 2004, a Boeing 727 of Chanchangi Airlines A Kenya Airlines aircraft crashed- landed at the Muritala Mohammed Airport (MMA) due to gear fault.
2005
On January 28, 2005, a Nigeria Air Force fighter plane crashed into a farmland in Yar Kanya, Kano State. Also, an ADC's B73 aircraft had its tyre burnt while landing at Yola airport on February 25, 2005. On June 12, 2005, a Boeing 727-200 air-craft belonging to the domestic Chachangi Airlines overshot the runway at Muritala Muhammed airport. There was another overshot of the runway at the Jos Airport the day before. Less than two weeks later, a Russian aircraft belonging to Harka Air crash- landed at the MMA. All the people on board died. An Air France A330 plane crashed into a herd of cattle at Port Harcourt on July 6, 2005. There were no casualties when a Ugandan-registered cargo air-craft, belonging to Almiron Aviation, overshot the runway at Murtala Muhammed airport on July 13, 2005. On July 23, 2005, a Lufthansa aircraft crash-landed at Lagos airport and was badly damaged, but no life was lost.  All 117 persons on board was killed on 22 October 2005 when Bellview airlines Boeing 737 crashed at Lissa Ogun State soon after take-off from Lagos. In about two months after, a Sosoliso Airlines DC-9 crashed at the Port Harcourt, Airport on December 10, 2005. It killed 103 people on board. Among those killed were 62 pupils of the Loyola Jesuit School Abuja who were returning to Port Harcourt for the Christmas holiday. Lagos based preacher, Pastor Bimbo Odukoya also died in the crash.
2006-2010
Fourteen military officers and four other crew members died on September 17, 2006 when an Air Force Dornier 228-212 air-craft crashed into the hills of Ushongo village in Benue State, 18 nautical miles from its destination, Obudu in Cross River State. On November 10, 2006, an OAS Service Helicopter crashed in Warn, Delta state killing 4 on board. Also, on August 2, 2007, a Bristow-owned helicopter crashed inside ExxonMobil facility in Port Harcout. On March 15, 2008, a Beechcraft 1900D plane marked 5N-JAH, belonging to Wing Aviation crashed in the mountainous forest of Busi in Cross River State on its way to Obudu airstrip killing all four man crew on board. Wreckage of the aircraft was not found until 6 months after its disappearance.  On April 20, 2010, 97 passengers on board were killed when an Abuja bound Dana Air plane lost an engine to bird strike shortly after take off at MMA. On July 30,'2011, an helicopter belonging to Ogendengbe Air Service crashed on the Oke-Obanla hill inside the Osun State Government Reserve in Ikonifin. On March 14 year, a Nigerian Police aircraft crashed in Jos, Plateau State. The Deputy Inspector General of Police (DIG) in charge of Operations, Mr John Haruna, his orderly and the pilot died in the crash. A Dana Air flight from Abuja to Lagos crashed into residential buildings in Iju, near Lagos on June 3, 2012 killing about twenty people. On June 3, 2012, a plane belonging to Dana Air, which carried 152 persons coming from Abuja crashed into residential buildings and burst into flames in Iju ,Lagos State[ii].
[i] TheNews May 28, 2007
[ii] Daily Sune 4 June, 2012