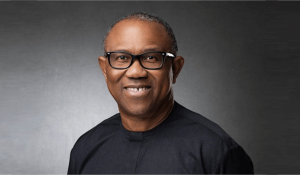 Peter Obi; born July 19, 1961 in the market town of Onitsha, Obi had his secondary education at the prominent Christ The King College, CKC, Onitsha. He then proceeded to the University of Nigeria, Nsukka where he earned a degree in Philosophy in 1984. Peter Obi underwent executive programme at the London School of Economics, Harvard Business School, Boston USA, Columbia Business School, New York, USA, and Kellogs Graduate School of Management. Peter Obi is also an industrialist whose business interest cut across banking, telecommunications, and the technology sectors. He chaired Fidelity Bank Plc., as he was Managing Director of Next International (Nig.) Ltd., Chams Ltd., and Mobitel Ltd. Peter Obi served as a member of the Presidential Probe Panel on the re-organization of Nigerian Ports in 1994 and the Presidential Task Force on the Nigerian Ports Decongestion in 1996. He also consulted widely for the Nigerian government on policy and economic issues[i].
Before 2001, Peter Obi was largely unknown on the political scene. Mainly those whose path had crossed his' knew him through his tentacles that are well spread in the business world, home and abroad. In 2001, he and his supporters began attending high profile meetings and big time parties within Anambra to sell his candidacy. His major offering to them was what many would hesitate to describe as intimidating credentials. Peter Obi's fundraising dinner at the Lagoon Restaurant, Victoria Island Lagos attracted the Who's Who in Anambra. He was the governorship candidate of the All Progressive Grand Alliance (APGA) in the 2003 election who eventually owed his ascension to the government house to the rule of law. Obi was declared governor after a protracted legal battle in which he challenged the election of Chris Ngige to be finally declared governor of Anambra State after 34 months of election. With the presidency supplying tonnes of money in campaign funds and the raw muscle of the security agencies, effectively augmented by Chris Uba's dare-devilry, Peter Obi, the APGA candidate was trounced, crookedly and unfairly[ii].
Obi's choice of a woman as his deputy was celebrated among feminist groups as it made the first of such in the south east region. Virgina Ngozi Etiaba who deputized him as governor was a widow mother of six and propeirtress of a school in Nnewi, also known for philanthropy[iii].  Etiaba will go ahead to become the first female governor of the Nigerian federation when Peter Obi was removed. Subsequently, Peter Obi re-appointed her as Deputy, for her loyalty after his return, and nullification of Andy Uba's election as state governor[iv]. Governor Obi's decision to conduct a local council election at the twilight of his administration after long delay is said to be ill-advised[v].
[i] Guardian June 29, 2013
[ii] TELL March 27, 2006
[iii] The Week April 14, 2003
[iv] Newswatch, September 10, 2007
[v] Guardian, June 29, 2013