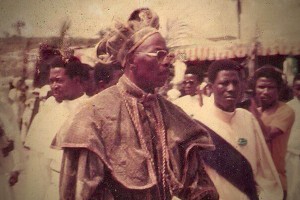 Oshoffa Samuel Bilewu Founder of Celestial Church of Christ, an African Instituted Aladura church identified by white garment uniform accompanied by bare footedness. His ministry which spanned thirty-eight years were defining in those years for Christianity both in the country of its origin, Benin, and Nigeria. At his demise in 1985, delegates were sent by the Beninese president, Matthew Kereokou to the Nigerian military government with the aim of reverting his planned internment in Imeko, a Nigerian border town in Ogun state to the benefit of Port Novo. Bilewu Oshoffa was buried in a mausoleum in Imeko, which attracts pilgrimages all year round especially during the church's convocation in the eves of Christmas.
Origin
Oshoffa's grandfather, Ojopola migrated from Abeokuta to settle in a farm in Dassa in Ajase area of Benin Republic. Ojopola had three children; Oshoffa, Teni, and Baba Elelubo. He lost his three children to slave dealers after an attack in which he managed to escape. Oshoffa was sold to an Ajase slave trader whose effort in reselling to an European trader failed because of his merchandise's ill health. This Oshoffa, son of Ojopola, and father to Samuel Bilewu, met and married Foun Alake, who was also daughter of a slave mother, Iyafo, who originated from Oju Ogun quarters of Imeko. Iyafo had been enslaved by Dahomeians following the Adubi War in which parts of Yorubaland were invaded in the late 19th Century.
 
Places of Growth
Bilewu Oshoffa was born in October 10, 1909 in Ajase, also called Port Novo. His father, in keeping with the promise he made to God in his supplication for a male child had in 1916 taken him to Tanzun to be trained by a Methodist Catechist, Moise Yansunnu. Believing his son to have been harshly treated, he withdrew and took him with himself to Adjara, a small Beninese town where he worked as a carpenter. There, Bilewu started his formal education to later join other boys in the Methodist Mission under Reverend Loko, a man Bilewu's father made frantic effort to convince in mentoring his son who he believed was meant for the Methodist clergy. Loko was newly transferred to Port Novo as the first African Methodist Superintendent and trouble brewed shortly for Bilewu when a Reverend Garner replaced him. His education was discontinued and he was made to learn carpentry in his father's workshop.
 
Travels
Elated by the news of the spread to Nigeria of the church which he founded, Bilewu Oshoffa made his first trip to Lagos in 3rd March 1951[1]. Several biweekly trips between Port Novo and Lagos would follow in subsequent years. In 1973, he shifted his base to Lagos, before long, settling for Ketu, a near suburb. Although his thirty-eight yearlong ministry saw the church spreading to many countries in different continents, his apathy to travelling by air was lifelong, and his trips were limited to West Africa.
 
Relationships
Childhood
Accounts by Oshoffa suggests his parents did not hold back in impressing the uniqueness of his destiny on him. His father's plan was to consecrate him to the service of God, and this he did when the boy was only seven years old. Life in Tanzun was unpleasant, and he had to be withdrawn from the service of the Catechist there. He then joined his father in Adjara, a very small town 9 kilometers from Port Novo. As a boy he was frail of figure, tall, and handsome. He played musical instruments in the church and enjoyed a good social life. On occasions he would cheer up the French colonial officer of the town with his trumpet and get rewarded with a drink.
 
Family
Oshoffa's parents suffered the lost of their children at infancy, and none of the survivors were male. His father, being one of the early convert to Christianity in Port Novo, apparently inspired by the biblical story of Samuel's birth decided he would, if he had a surviving son, dedicate him to the service of God. His father died in June 1939, leaving his son to the carpentry work against his dream for him to be a missionary. He also had many wives, with each bearing him up to five children[2]. Like his father, Bilewu was polygamous, his first wife being Felicia Yaman, mother of his first son, who would become leader of the church worldwide in 2002, Emmanuel Mobiyina.
Affiliates
After his otherworldly experience on the day of the eclipse of the sun, 23rd May 1947, Bilewu Oshoffa with the understanding he has been spiritually transformed, prayed for, and healed the sick among his first contacts in Agangoue and Port Novo. This won for him the first pockets of associates, one of whom, a Roman Catholic couple, he joined in prayers of thanksgiving following a miracle experienced by the husband, Federick Zevunu. During this prayer on that day, 27th September, he reported receiving a commission to preach. His vision, corroborated by the Federick's wife, Mary, indicated he had been instructed by Christ to "bring back Christians from idolatry to the true worship of God." Most of the dozen who on invitation of Federick came to observe what was happening with Oshoffa some three days later fell in trance on entering his house, bringing him more associates in preparation for the church that will commence on the first Sunday of October. The church achieved formal recognition at the Republic of Benin in 1965, and Oshoffa committed the church in the country to the care of President Mathew Kereokou when he departed permanently almost a decade after for Nigeria.
The raising of the dead of one Olusola George in Lagos brought to Bilewu Oshoffa a huge following in Nigeria. This, the eighteenth of such, would endear the likes of Ajanlekoko, an accountant in the Nigerian Breweries Limited, who was his first Nigerian affiliate, and Alexander Bada who also worked in the same corporation, the young man who zealously supervised the expansion of the church to many corners of Nigeria, from where it spreaded globally.
 
Education
Formal education for young Bilewu Oshoffa began at the Roman Catholic school at Adjara. The transfer of a Methodist Superintendent, Reverend Loko to Port Novo would convince his father to have him transferred to the Methodist Mission. Loko was returned to Lagos shortly, and a new bishop, Garner, who was an expatriate took his place. The decision to include students as laborers in the building of a new seminary was opposed by the pioneers. All of them, including Oshoffa were dismissed. His father, possibly intending to teach him a lesson, made him work as a carpenter like himself. Bilewu Oshoffa will later become skilled. The lack of an extensive formal education, his biographer, Olu Obafemi comments, makes the complexity of the big organization which he created a sort of puzzle.
[1] Pastor SBJ Oshoffa God's 20th Century gift to Africa, Olu Obafemi, Pathway Publishers Limited, Lagos, 1986
[2] dacb.org/stories/Nigeria/oschoffa-samuelb/