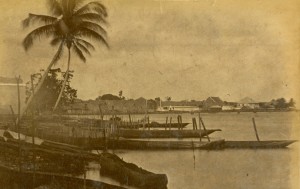 Moses Orimolade Tunolase was an itinerant faith healing preacher of the early 20th Century Nigeria whose career was characterized by many famed occurrences believed by the faithful to be miraculous. Orimolade was the founder of the Cherubim and Seraphim Church. Born 1885 circa in Ikare Akoko to pagan parents and at the time when Christianity was just finding its foothold in the town. Due to the weird circumstances surrounding his birth his parents entrusted him to the care of a churchwarden. As a boy, Moses Orimolade came in formal contact with Christianity through a rector of St. Stephen's Anglican Church.
 
Legend of Tunolase
Orimolade suffered an ailment, which paralyzed his limbs shortly after his conversion to Christianity and was in bed for seven years. At this lonely time of his life, he found solace in reading the bible and applying his mind to his future evangelistic life. For the next five years after his recovery, he continued with his preaching and finally arrived and settled in Lagos where he would establish an Aladura movement. Towards the end of his career, he lived a reclusive life, allowing his more presentable lieutenants to be the face of the new movement, which was now becoming the haven of even important persons. Orimolade never married or fathered a child, but his relationship with women was not all bristling. He had in fact lost his precious disciple because of his hesitance to refuse the help of a widow, Iya Ijesa, who had been healed in his Aladura band.
 
Travels
Orimolade's initial effort at his hometown of Ikare was repelled; therefore he took his message to Kaaba, where he gained much more respect. Realizing him as a potential treasure, his adversaries in Ikare Akoko had made futile efforts to have him back in the town. He was also at Owo to preach in the year 1916. Orimolade is recorded to have preached and prayed in several towns up to the northern part of Nigeria, winning converts and sometimes establishing C.M.S. churches. This he did from Akungba to Oka, Akoko-Edo, and several other places in the Mid West, especially in the Niger Delta. He also preached at Idah, Lokoja, and at Okenne. After establishing churches in Abuja, Egbe, Igan and Igasa, he had stayed in Ilorin where he was famed as Alhaji-n-Yisa. At Ogbomoso, he aborted his activities due to the challenge of a discourteous young woman, whose ill fate in moments after, gained for him the awe of the people of the town. Orimolade was also in Ibadan, where he stayed with the pastor of the African Church. From there, in 1924 he went to Ifako in Agege district and lived with Jacob Kehinde Coker, the leader of the African Church, where he earned the nickname Baba Aladura, meaning The Prayer Man. There, he met Abiodun Akinsowon, a visioner, whose withdrawal in 1929 started the series of schisms that beset the newly formed church.
 
Seraph Band
As more people came to Orimolade for prayers, it became instructive to start an informal open-air service to accommodate them. On 9, September 1925, he announced a name for the growing gathering. The Seraph band (with an added name, Cherubim, since 1926) that he founded expanded rapidly even into the troubled years. Orimolade passed away on 19 October 1933 during his stay at Rev. D.J. Oguntolu's ranch in Ojokoro. As supposedly directed by him prior to his death, his remains were reburied in his Ikare-Akoko home in 1975.