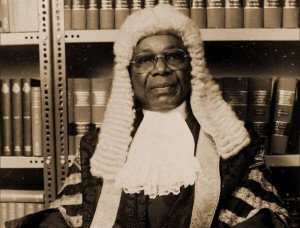 Oputa Chukwudifu Sylvester; Chair of the Human Rights Violations Investigations Commission, HRVIC, nominally called the Oputa Panel which was fashioned after the the Truth and Reconciliation Commission of South Africa as one of his first of President Obasanjo in office. Oputa is a Justice of the Supreme Court of Nigeria, and pioneer Chief Judge of Imo State.
In spite of an unpromising infanthood, life began for Oputa early and he had become principal while pursing his B.A degree, so young that he grew beards to look older. Oputa returned to Nigeria from the U.K. where he went to study in 1949 to set up a law firm in Port Harcourt for a rewarding practice. In 1966, he was appointed a Judge by the premier of the Eastern region, Dr. Michael Okpara. In the late 1970s, he was appointed the Chief Judge of Imo State. He served in that position till 1984, when he was appointed into the Supreme Court, where he retired in 1989.
Oputa was a member of the Kayode Esho panel, which assessed the state of the Nigerian judiciary. Like the Esho's report which was left unattended to for almost a decade, his' signature contribution to his country, the Oputa Panel Report was left to gather the dust for many years but recommendations such as the reopening of  case of Dele Giwa's murder ultimately became public.
 
Childhood
At age six, Chukwudifu showed traits which his new foster parent, Azike found impressive, ultimately allowing his early enrollment into the primary school against the standard which forbids candidates with small stature.
Places of Growth
Chukwudifu who was born 1923 into the large polygamous family in Oguta became orphaned within six months of his birth and was left to the care of an ageing grandmother. In 1930, Chukwudifu was admitted to standard one at the primary school in Ozubulu where Azike had been transferred. In 1935, while in class five, he returned to Oguta, to his older siblings. After completing his primary school the following year he proceeded to Christ the King College CKC, Onitsha, in 1937 where he remained till 1940. In 1941, he went to Higher College (now College of Technology) and followed other students to the school's new site at Achimota in Ghana. It was during his years in Achimota College, that he joined the army as part of Britain's crusade on the Second World War.
Family
Chukwudifu got married in 1950 in London. One of his children is the eccentric entertainer, Charly Boy.
Education
Through private study as a teacher, he got a degree in History, Obi pursued a degree in Mathematics through the same means and later became a professor. But Chukwudifu's thirst for more studies was not assuaged. Later, he pursued a degree in Law. He was called to the English Bar at Gray's Inn London, 1953.
Contemporaries
While in Achiomata, Ghana Oputa met other Nigerian students like late Pius Okigbo and Duke (father of Donald Duke, the governor of Cross River State). Among his students in Buguma, where he was an under-30 year old principal, were Tam David West, ho became a professor and petroleum minister, then Karibi Whyte, who became a Justice and his colleague in the Supreme Court. Clergyman and social critic, Matthew Kukh was secretary of the Oputa Panel.
Experience
Oputa was principal of Kalahari National College, Buguma, 1945-1948; administrative officer, Nigerian Secretariat, Lagos, 1949-1951. He was in private legal practice between 1953 and 1963 and was a judge in the defunct East Central State from 1971-1984. In 1984, he was appointed justice of the Supreme Court of Nigeria. He served as the chairman, Human Rights Violations Investigation Commission, HRVIC, otherwise known as Oputa Panel in 1999[i].
Accomplishments
In HRVIC which was purposed for reconciling people who felt alienated by past political events provided an overview of the extent of Nigeria's moral, physical and institutional decay under military rule. It also came with a recommendation on what to do to put the past behind and to look to the future with renewed hope and patriotic zeal.
[i] Newswatch September 26, 2011