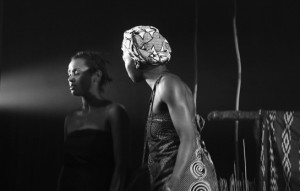 Opera is a staged dramatic work enlivened with inclusion of songs, dance, and drum beats. In western Nigeria, this is spiced with the demonstration of the beauty and melody that abound in the specially selected words of the various genres of Yoruba traditional poetry. Drama has always been part of the local African philosophy in the western enclave of Nigeria, and of the lives of the people of the country. Although this view, as expressed by Wole Soyinka has been contested by Geoffrey Axworthy, an accomplished stage director, who posited that the real roots of African theater are firmly in the schools. The influence of traditional Yoruba theater on Hubert Ogunde's highly successful works, which owed nothing to the schools, apparently settles this.
While original, Ogunde's theatrical styles mixed traditional Yoruba forms with borrowings from Europe and America. Like him, the other two of the most important players of Yoruba Opera, Kola Ogunmola, and Duro Ladipo started off with mainly Christian-oriented plays. Ogunde and Ladipo were incidentally at one time teachers in different Anglican primary schools. With time, these pioneer professional dramatists moved to secular squares, trying their hands on social satire, with some beginning to dramatize literary works. Through the contributions of these distinguished men, the Yoruba Opera has become strong and has extended its scope.
Unlike his older contemporary, Ladipo's operas were transcribed and published, and he tended to appeal to more sophisticated audience than Ogunde. His plays had a seriousness and self-consciousness, which won the respect of Nigerian academics. Ladipo developed his epic operas, including his three best-known works: Oba Moro, Oba Koso, and Moremi from the book Ulli Beier, a German artist introduced to him; History of the Yorubas by Samuel Johnson. He earned international acclaim for introducing the Yoruba Opera to the theater world. His international tours included visits to Europe, the United States and Brazil. The power of Yoruba Opera, especially in its impact on a European audience, is astonishing
The return of Soyinka in 1960 after major feats with his plays in Europe was a catalytic charge in an already spirited atmosphere in Nigeria. The staging in 1959 at Ibadan of his masterpiece, Lion and the Jewel, became an eye opener for a number of would-be playwrights. When in the eve of Nigeria's independence, his first important play, A Dance in The Forest was performed; it became clear that Nigeria's independence was not only political but also cultural. This robust ferment of intellectual activities that developed in the city of Ibadan at Mbari Mbayo center and the University of Ibadan produced the first serious and significant generation of literary dramatists, which included Wale Ogunyemi who wrote Obaluaye and Ola Rotimi, known for his acclaimed work, The Gods are not to Blame.