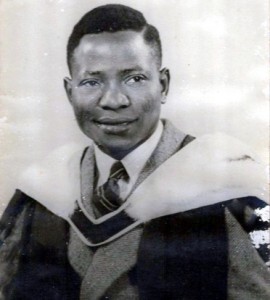 Onabamiro Sanya was a biologist and statesman, born 1913 in Ago Iwoye. Before him, the dangerous guinea-worm parasite ravaged the whole of southwest Nigeria. In the 1950s, Onabamiro in the University of Ibadan did the research that formed the basis for development of strategies for the parasites' eradication. As a pioneer in copepod literature, he consummated the revelation of the nematode life-cycle in his doctoral dissertation addressing the intermediate-host Cyclops copepods.
After completing his primary education around 1928, Onabamiro went to the Wesely College for a free teacher training course. From there, he proceeded to the Yaba Higher College through the sponsorship of the Methodist Mission that he served for a cumulative period of seven years and some months. Even before this time, he had been a prodigy, recalled to have been a child of fine handwriting and skilful letter writing. Against the odds of the war, and commitment to his Methodist benefactors, Onabamiro was recommended for a scholarship by which he graduated with University of Manchester bachelors in Zoology in 1947. After this, he studied education at Oxford for a year during which he wrote a book to tell the rapidly increasing number of people in the British West Africa, and also the British people about the facts concerning, and underlying causes behind the deaths of little children in West Africa. Onabamiro returned to Nigeria in 1949 for a university position, obtaining his Ph.D in 1951 with his Copepod research.
Onabamiro, like many of his other Nigerian contemporaries, developed socialist views from his days in England. When he returned to Nigeria, he participated in the political process, involving himself in Action Group party's Ibadan District Council in 1957. The movement toward higher education in the Western Region brought Onabamiro to the national stage as he was drafted into the Ashby Commission which historically established the technical background for university education in Nigeria. As the delegate of western Nigeria, he resigned from the Commission when the University at Ibadan was decided to be a national, and not a regional one. With Nigeria's attainment of independence in 1960, Onabamiro was elected to the regional assembly and very shorty got appointed as the western region's Minister for education, a position from which he supervised the creation of the esteemed Obafemi Awolowo University, Ile Ife. He also oversaw the free education program of his region.
Spared of the evil fate that befell many politicians of his class in Nigeria's first republic, Onabamiro's portfolio was changed to Agriculture in 1963, with his ministerial role ending in 1967, a year before the civil war. He returned to the academics. Ten years later, his experience was put to use, as he joined in the technical committee that authored the philosophy of Nigeria's education. Onabamiro's last book, published in 1983, was a thoughtful overview of Nigerian history. He died 1985, praised for his scientific findings, and his roles in bringing Nigeria from colonial dependency to nationhood.