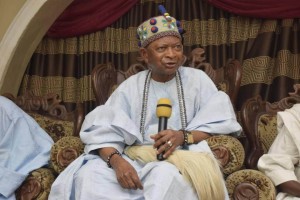 Jacob Olufemi Omolade; Monarch of Ibara in Abeokuta, Ogun State, Nigeria. Omolade was one of the pioneer Lagos State civil servants who came in as graduates. He succeeded Morakinyo Ayinla Odunjo, the Ajiboyede II whose predecessor, Adesina reigned for thirty-three years after a 90 years interregnum in the seat of the Olubara. The long break, consequent of the termination of Adubiwaji's reign in 1862 had been a fallout of the activities of Dahomian raiders who sacked the ancient Ibara-Orile[1]. He was Installed Olubara on 24 October 1992. Omolade's reign is marked by his insistence on the eradication of secret cultism among the ranks of his chiefs. His influence, from the nucleus of Ibara, extends to Yewas in Ilewo, Isaga, Joga, Iboro, Imasi, and other Egba towns.
 
Origin
Father, Ephraim Adesola was from the Alapo compound of the Lafa ruling house of Ibara, the foremost in town, named in the honour of Lafa who as an early settler became the first Olubara. During one of the outdoor evangelistic outreach Ephraim had converted from Islam to Christianity and subsequently received basic education which bettered his lot. He helped foreign missionaries in communicating with illiterate locals and made a living from his carpentry work. Ephraim's influence grew as he involved himself in church roofing projects and the construction of pews. He was rewarded with an appointment as Carpentry Instructor of the newly established Baptist Boys High School in Abeokuta. His happy wedding to a young Ibara girl of appreciable business acumen Susana Abewun was punctuated with recurrent loss of babies at birth.
Places of Growth
Jacob Olufemi Omolade was born 20 May 1933 in Ibara. His Infant Class began at the age of seven in St. Andrew's Anglican Primary School a kilometer away from home. In 1947 he enrolled at the Baptist Day School Ijaiye Abeokuta. As a child he undertook menial jobs like firewood selling and the carrying of sand at Odo Ogun to supplement the very meagre pay from his parents.
Childhood
Life as a child was hard, and Omolade believes attempts were made at his life. Rivalry and conflicts marked his childhood home experience, but the totality of the community provided warmth for the reason of the endearment he enjoyed from elders, a reflection of his own good nature. Due mostly to the size of the family, which consisted of three wives and twenty-one children, survival became a struggle. Male children were occasionally coopted to assist with farming and carpentry job. His secondary school years began with him being a playful and rascally child so much that the first two years of secondary school was a disaster.
 
Family
Jacob Omolade was the first surviving child of his parents and he grew up in an unhappy polygamous home. After the loss of his mother in 1968, he, reflecting on another bereavement which occurred three year before, decided to take up a job in Lagos to help with the education of his younger ones. He built a family of his own with Alice Akoke Omolade, his girlfriend from the African Teacher's Training College Ifako days. Alice who hails from Igan Alade (a Yewa town close to Igbogila) also trained as a teacher at the College of Education, now Tai Solarin University of Education in Ijebu Ode. Omolade's marriage to her in May 1967 produced four children. Omolade did not take to the example of his father in being polygamous even though it was expected of an Oba to be.
Relationships
Contemporaries
MKO Abiola and President Olusegun Obasanjo were secondary school mates. Prof. Ibidapo Obe, who became Vice Chancellor of the University Of Lagos was a classmate in undergraduate days. Police head, Musiliu Smith and Akiolu who became the Oba of Lagos were associates too. Seye Ogunlewe who went on to become minister of the republic was a colleague in the Lagos State civil service.
Affiliates
A parishioner of the St. John's Anglican church, Iju-Ishaga, Lagos. He is also a member of the St. Andrew's Anglican Church, Ibara. He is a major sponsor of the Boys Brigade.
 
Education
Omolade earned a Grade III Teachers Certificate from the African Church Teacher's Training College Ifako Agege in 1959. After two years of teaching he went to the Federal Government Teacher Training College Surulere from 1962-63, obtaining the TC II Certificate. On passing the GCE Advanced Level he gained admission through direct entry into the University of Lagos to study Geography. Omolade pushed his way through the first two years through extra teaching sessions, holiday jobs and by his wife's help. In the third year he had been given a scholarship for leading by the highest grade in his faculty. His fees from the first year was to be refunded too. He graduated with B.A. (Hons) in 1972.
 
Travels
Omolade made an educational trip to Israel in 2004 and as a pilgrimage in 2008 visited the holy sites of Jerusalem.
 
Experience
Omolade worked as a teacher and shortly as principal at Olubirin United African Methodist Church Grammar School. Shortly after his university education he joined the Lagos State Civil Service as an Administrative Officer in the Ministry of Health. His career which started at Grade 8 rose speedily to 16 and he became Secretary to the Ministry of Finance and Administration. In 1981 he became Permanent Secretary. Labour crisis at Iju Water Works in 1982 was responded to by the Lagos State administration of Lateef Jakande with the transfer of Omolade as General Manager where his abilities as public servant were most evident. Another posting two years late to Lagos Mainland Local Government as Sole Administrator was followed by one to Ikorodu. Finally in 1988 he was posted back to the cabinet department at the Governor's Office where he was till his retirement in 1989. In retirement, he was appointed a member of the State Hospitals Management Board. The death in December 1989 of Ayinla Odunjo necessitated the search for a new Olubara. Being a qualified scion of a ruling house, Omolade was chosen by the kingmakers traditionally drafted from twelve ancient compounds of Ibara or less
A meritorious award was bestowed Omolade to celebrate his retirement by the Lagos State Governor, Rasaki, who years later remonstrated his work ethics during a meeting of prominent politicians at the residence of President Obasanjo.
[1] Oba Jacob Olufemi Omolade; An Odyssey of a Trailblazer, Dayo Alao, Babcock Consulting, Ilisan-Remo, 2012