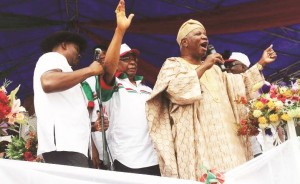 Olusegun Agagu was a politician and scholarly governor of Ondo state from 2003 to 2007. Born in 1948, Agagu, being the only boy on his mother's side of the family, had a highly-sheltered life until he left Okitipupa at the age of ten, to live with his older cousin who brought him up until he became an adult. With his new guardian who worked in Shell Oil he would see the big Nigeria cities for the first time. Agagu attended Ibadan Grammar School between January 1961 and 1967, and was admitted to the University of Ibadan in 1968 to study Botany but later changed to Geology, from where he graduated in 1971. As an undergraduate, his academic record was replete with laurels and prizes. Agagu later proceeded to the University of Texas for his Masters degree in Geology. Returning to Nigeria, he obtained a Ph.D in Petroleum Geology from the University of Ibadan, in 1978. And until his voyage into politics, he was a lecturer in UI.
 
Politics
In 1988, Agagu retired as Acting Head of Geology Department at UI and started a geological consultancy and mining business. It coincided with the beginning of General Ibrahim Babagida's political transition programme. He obtained the Social Democratic Party (SDP) party card for the purpose of his business but got to meet Evangelist Bamidele Olumilua, who was then contesting to be the governor of the state. Agagu became his deputy and was in that position till the military sacked the democratic institutions of the era. In 1999, when democracy returned, President Obasanjo appointed him as Aviation minister. This came after his unsuccessful bid for the governorship of Ondo State.
 
Minister
As minister of Aviation, Agagu upgraded the Akure Airport, while as Power Minister he established 335 mega watts of power plant in Omotosho; ensured constant power supply in Akoko and the entire South senatorial district. He also partnered the FG to establish the Nigeria Television Authority (NTA) stations in Akure, Ikare and Okitipupa and initiated the electrification of more than 100 communities in Ondo State. He also initiated the construction of Owena Multi-purpose Dam.
 
Governor
Agagu beat incumbent governor Adebayo Adefarati in the 2003 elections. As governor, he was commended by President Obasanjo for taking time to plan. "We have also seen that the execution of the plan is now showing results," the president said on 29 June, 2006. Agagu was nevertheless defeated by former ally, Olusegun Mimiko in his bid to return a second time as governor.
 
Post-Governorship
Agagu's post-governorship life featured probes from a Senate committee on Transportation, the Economic and Financial Crimes Commission (EFCC), and his successor, Mimiko. He died 2013 in Ibadan. A day before his burial the plane, the airplane carrying his corpse together with 13 passengers and 7 crew members crashed on takeoff from the airport.