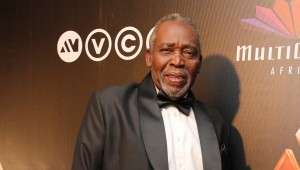 Oludotun Baiyewu Jacobs, popularly known as Olu Jacobs was born in 11th July 1942 in Abeokuta Ogun State to Egba- Alake parents.  Olu's love for the Arts started at an early age, but his parents were adamantly against it, his father especially. This however, did not deter him from pursuing his longlife dream of becoming an actor. He attended Holy Trinity School in Kano for his primary education and later left the shores of Nigeria to the United Kingdom in pursuit of his dream, here he trained at The Royal Academy of Dramatic Arts London, after which he starred in several British television shows and series in the 1970s incuding, The Goodies, Till Death Do us Do Part, Barlow at Large, The Vultures, Angels, 1990, and The Tomorrow People.
In the 1980's Olu Jacob starred in films internationally, featuring on John Irvin's war film, The Dogs of War, Roman Polanski's adventure-comedy Pirates and the family –adventure film Baby: Secret of the Lost Legend. He came back to Nigeria, but there were no home movies and artist fees were low. He then formed his own company which performed stage plays before the advent of home videos. Olu Jacobs's first major role in Nigeria, was the production of a television series titled Vigilante, which also starred RMD and Mama D. Olu Jacobs received awards for his prolific acting and great interpretation of his roles, especially with his baritone voice.
Jacobs is married to a prolific actress Joke Silva, a role model to young female actresses and the mother of his two sons Korede and Gbenga.