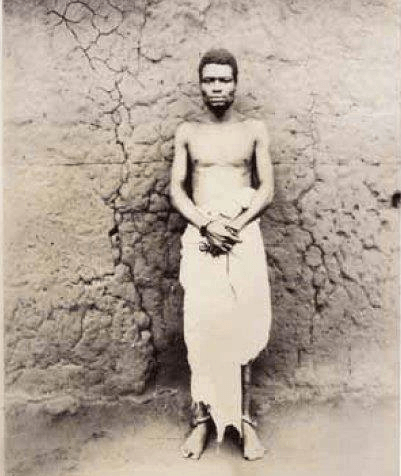 Ologbosere was the Benin chief who was convicted in the murder of Acting Consul J.R Phillips and other colonial officials at Ugbine on 4 January 1897. He was the second-in-command to Ezomo, who was the Commander-In-Chief of the Benin army during the reign of Ovonramwen whose policies and kingdom's bad publicity led to tension which degenerated with the massacre of Phillips and other officials of the Niger Coast Protectorate. Ologbeosere's action was directly responsible for the British punitive response; the Benin Expedition of 1897, which invariably led to the transfer of power from the Oba system to the Royal British Empire.
Although many chiefs of Benin surrendered or were captured in the British military campaign of February, Ologbosere, being an army chief chose armed resistance instead. Although Alfred Turner, the man appointed to normalize the post-Ovonramwen Benin carried on with a calculated conciliatory style, an inquiry into the activities of the chiefs on January 4 was insisted upon by Gallvey.  Ologbosere's compliance in the ambush against Phillip and his men was established in the trial and he was condemned to death in absentia by Sir Ralph Moor. Other chiefs, Obaradesagbon died after surrendering, Iguobasoyemi shot himself while being escorted to the city, and Obayuwana cut his own throat to avoid the disgrace of public execution, a pain which Obahhavbaye and Uso suffered. Many chiefs returned to town to embrace the new British largesse and to occupy a place in the Native Administration that is being drafted to replace the government of the king in exile. Some of these persons secretly supported Ologbosere's attacks on British outposts.
After months of attacks and persecution from the new government at the capital city, the villages that harbored Chief Ologbosere turned him in. On May 27, 1899, colonial officials in the company of soldiers went to Ehor to arrest Ologbosere and Ebohon and got him at Okemue, a neighboring village. They arrived to a deserted settlement as many had gone into hiding. Ologbosere was taken to Benin for trial. He was tried and convicted on 27 June for instigating the murder of Captain Phillip and others. He did not plead not guilty but argued other chiefs had hipped all blames on him. He was hanged the same day in Benin.
In author, P.A. Igbafe's assessment, the execution of Ologbosere was the closing scene of the bloody drama which began with the killing of Phillips and his lieutenants and the consequent expedition of the following month.