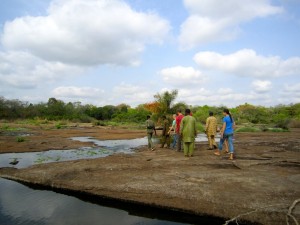 Old Oyo National Park; Nigerian park-system in Oyo primarily facilitating preservation and protection of indigenous Nigerian flora and fauna. The park also protects the architectural and historical sites of Oyo Ile, the capital of Old Oyo founded many hundreds years in the past. The 22 relics abides, sites of the aafin (palace of the king), graveyards of past and Akesan Market. The park offers over 2,500 square kilometers of pristine nature – animals, birds, variation in vegetation plus the fascination of exploring more than 22 relics of the Old Oyo Empire at the serene Oyo Ile-Koso . Two large ostriches, over 8ft tall, welcome an intending tourist to the park's newly built colonial type administrative block. Pillar sized pink legs (that can run at 50km per hour) very long necks, beautiful and alert darting eyes are simply captivating. Interacting with them is a great way to begin the tour of what is a near jungle.
Old Oyo National Park is divided into five ranges – Oyo Ile, Yemeso, Sepeteri and Marguba, and a visit can cover these areas in two trips organised daily between 6.30 am – 10 am and 3.31- 6.30 pm. Park officials advise visitors to choose bet December and April every year, presumably when rains not get in the way. The ranges are interconnected by arteries jeep tracks and with rangers' quarters, posts and vehicles accommodation, there are well-fenced modern guest houses large students hostel with boreholes, generators, cable tele and well-staffed restaurants. They are located in the forests- Akoto, Sepeteri and Ibuya. Standing by in the Old Oyo National Park are tour guides who give information on conservation, eco-tourism, history and archaeological findings.  Journey into the wild that would cover over 100 km through Igboho, Iseyin, Owode, Tede, Sepeteri, Ibuya, Akoto, Oyo Ile-Koso to Banni Road near Kwara State would afford views of the ruins of Old Oyo Empire. It showcases vegetation which varies from forest to savannah; complemented by a parade of animals of all sizes and species – antelopes, kob, duikers, baboons, monkeys, lions, porcupines and birds, snakes, crocodiles and fish. With luck, and some measure of skill, fishing at the Ibuya Pool. Ikerre George Dam also turn up some good fish. A team of P. Hall (British) and A.P. Leventis (Greek) researching the ornithology of the area visit the Old Oyo National Park regularly to record bird population variation. Some one hundred species of birds have been identified.
The park faces one major problem — poachers who kill anything from rats to antelopes. There is a six-month jail term for offenders but that does not deter them much. The menace of Fulani/Bororo cattle grazers also hinder conservation efforts. The speed limit here within the animal enclave is 40km to avoid running over the animals.  Kobs, always moving around in colonies are a delight to watch. Towards Ibuya Pool, the duikers are easily sighted- dark grey, looking much like little antelopes. The peace is abruptly shattered by the chattering of monkeys on trees, babies gambolling — a maudlin spectacle. The large are daring —boldly exposing themselves. The park is a great place to relax but one must keep a safe from the multiple crocodiles which splash around.
The Old Oyo Empire at Oyo Ile and Koso is a journey into history. The site of Oyo Ile, the capital of the Old Oyo Empire, 782 AD- 1840 AD, induces the visitor to go back in time and wonder how Yoruba ancestors trekked hundreds of kilometres on foot, horses and donkeys, crossing the Iwa River and finally settling down at this savannah belt in 782 AD. Yet the remains of one outer and three inner defence walls, originally, 4.5m thick and 9m high, are still intact. Sites of the aafin (palace), the town hall, shrines and the old Akesan Market Square are well marked by archaeologists. A few metres to the palace site is the water reservoir, 15m deep and 100m in diameter. In all, the Oyo He site boasts of over 22 relics, like the Koso ruins where Alaafin Sango (Oba Koso) hanged himself. Here, part of the walls still stand soaring 30 feet high, four feet wide. Bara (nearby) served as the royal cemetery for past obas. The Agbaku Cave, with its yawning opening, was the warriors' barrack. It could take 2000 soldiers at a time[i].
 
[i] Tell 8 May, 2000