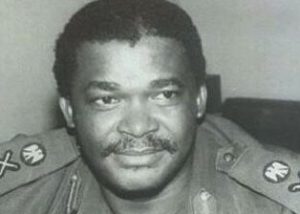 Diya, Donaldson Oladipo; De facto second in command to Nigeria Head of State, General Sani Abacha(1993-97) born in Odogbolu, Ogun State April 3, 1944. He is a retired soldier, lawyer and former Chief of General Staff., CGS during  Abacha regime. He was implicated in a phantom coup of 1997 against his boss and was sentenced to death in 1998, but was pardoned by Abdulsalami Abubakar, Head of State succeeding Abacha, in March 1999[i]. Diya is believed in some quarters to have taken part in the coup– allegedly with evidence, because he also confessed to the coup, while his bodyguard, Fadipe, is said to have corroborated that fact[ii]. Diya is a recipient of Grand Commander of the Order of the Niger, GCON.
 
Education & Military career
Diya was educated at Yaba Methodist Primary School, Lagos; Odogbolu Grammar School, Odogbolu; Nigeria Defence Academy, Kaduna; United States Army School of Infantry, Fort Genning, Georgia; Command and Staff College, Jaji; National Institute of Policy and Strategic Studies, NIPSS, Kuru, 1983, and University of Lagos. He started his military career as a cadet at the Nigeria Defence Academy, Kaduna, and was commissioned second lieutenant in March 1967. He was commissioned into the Nigeria Army in 1976[iii]. Diya was at different times Director, Defence Intelligence of the Nigeria Army, Governor of Ogun State and General Officer Commanding, GOC 82 Division of the Nigerian Army. He was commander, Nigerian contingent to Lebanon and chief military personnel officer, UN Interim Forces in Lebanon, 1979-1985; commandant, National War College, 1992, and chief of defense staff, 1993; Chief of General Staff and Vice-Chairman, Provincial Ruling Council, PRC, 1993-1997.
 
Abacha politics
According to Dr. Falomo, personal physician to winner of defunct June 12 election, Diya was at his hospital, as well as visited Gani Fawehinmi and others, at the bidding of Abacha who commissioned him and other lieutenants to consult on the political future of the country and feel the pulse of the people. Diya went  to the Oba of Lagos, Oba of Benin and the Ooni of Ife. While all of the consulted told him to tell Abacha to install MKO Abiola, winner of the election, Falomo alleged Diya went back and told Abacha to discard those views; that no military man takes power and hands it over to civilians[iv]. Diya met with northern elders during the early days of Abiola's detention, Olusegun Obasanjo's vague agenda was one of the points of concern to the elders who blamed the government for the enduring crisis (over Abiola's mandate) and asked the junta to clip Obasanjo's wings. "Obasanjo's ex- cesses must be contained," Mahmud Attah, a Kaduna businessman crowed into Diya's ears at State House Kawo, Kaduna[v].
A proposed National Conference, which Diya believed was his own plank in the regime, was not allowed to achieve optimal success because it was boycotted by the leaders of the West. Diya met leaders across the country, canvassing support for the conference. He asked Abiola to allow himself to be used to canvass for the sovereign conference that would be a permanent solution. Despite the manipulations, the decisions of the conference turned out to be fairly democratic. Diya's assessment was that Abacha's self-succession scheme atrophied the gains, as the dictator fought tooth and nail to scuttle the constitution that emanated from the conference. Early enough, he had used the excuse of a sovereign national conference to catapult himself to power, earning the people's support. And part of the agreement was that he would put this conference in place, and in 18 months, we would hand over.  Far from that, Abiola was arrested and Abacha demanded Diya signed the Decree 2 form authorising Abiola to be detained without trial at the pleasure of the state. Diya claimed he refused. Within 24 hours, Decree 2 was amended, making the inspector-general of police, IG. Also, a signatory of the Decree 2 forms, Ibrahim Coomassie, the Inspector General, quickly signed the form on Abiola. Many people were to come later: Enahoro, Lieutenant-General Alani Akinrinade, General Obasanjo, Major General Shehu Yar'Adua, and other VIPs like Governor Olusegun Osoba, and Frank Ovie-Kokori.
Diya was however only a nominal deputy to the Head of State as his influence remained limited. While playing host to American ambassador who had come to confer with him on the case of Ken Saro Wiwa, environmental activist who had been arrested for a murder that had occurred in his domain, he had  got an urgent call bidding him to see the news on the CNN. Wiwa had been hanged. In his own defense, Diya maintained that despite Abacha's growing powers, he did not, give up attempts to moderate him and fight for the right of Nigerians. Once, he was on tour of the East when he heard that Anthony Enahoro had been arrested.
 
"I got to Abuja and confronted Abacha in the night," he said. "He said it was Gwarzo who did all these (arrests of many detainees, including Enahoro), Well, I said, if it was Gwarzo, he should forget about him and order that these people should be released. Looking at Enahoro's age, if this man just falls and dies in detention, what happens? Abacha just flared up, shouting that if he dies, it is God that killed him."
 
Incarceration & Acquittal
On December 20,1997, Diya was marched off from the corridors of power in leg irons and handcuffs.  In Jos, where he appeared before a secret military tribunal on charges that he was plotting to topple Abacha, he made a statement that he was set up by the authorities. He pointed accusing fingers at Abacha and Lieutenant-General Ishaiya Bamaiyi (retd), the then Chief of Army Staff. That night, Sergeant Rogers,  Abacha's leading executioner, was in Diya's cell  to apply physical brutality on him.
When Abacha died suddenly on June 8, 1998, Diya believed that the worst was over, though the sentence of death was still hanging on his head and the heads of many other officers who appeared before the tribunal. On July 14, 1998, he was flown to Potiskum, where he was to serve his term of imprisonment after the new strongman, General Abdulsalami Abubakar, commuted the death sentence. After months of hesitation, General Abubakar finally granted Diya and the other political prisoners freedom[vi]
 
[i] Newswatch April 16, 2012
[ii] Punch April 16, 2017
[iii] Insider April 3, 2006
[iv] Punch June 9, 2013
[v] The News, September 11, 1995
[vi] The News, October 4, 1999