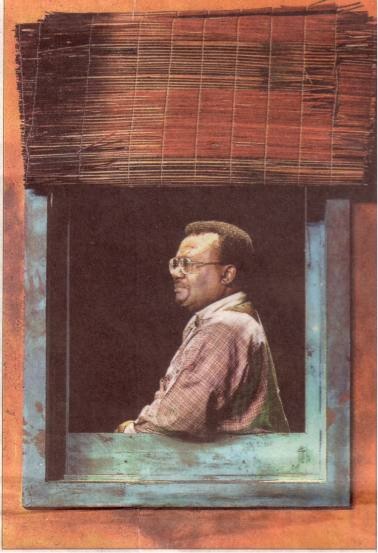 Emmanuel Gladstone Olawale Rotimi is one of the best known Nigerian playwrights. He was born April 1938 in Sapele to a Yoruba radical Lagos trade-union activist father and an Ijaw mother. His artistic life commenced in 1942 when he performed in a play adapted and produced by his father. In his secondary school days at Methodist Boys' High School, Lagos, where he was from 1952 to 1956, he wrote short stories and poems, some of which were broadcasted on the network of Radio Nigeria.
Ola Rotimi won Federal government scholarship to study drama (play-directing) at Boston University. In 1963, after his first degree, he received a Rockefeller Foundation Scholarship to do his Masters degree in playwriting at the Yale University. It was at Yale that he wrote his witty award winning socio-political domestic satire, Our Husband Has Gone Mad Again. Ola Rotmi returned home after his second degree to take employment as a research fellow at the Ife University, a position which opened him up to a new world of Yoruba traditional oral literature and wars history. This contact inevitably influenced his play, The Gods Are Not To Blame in which he adopted a controversial language style; literal translations of Yoruba proverbs to English language. Unlike his forerunner, Wole Soyinka, whose complexity is admired but feared, Ola Rotmi's plays roundly won the heart of theatre-goers.
His 1985 play, Hope of the Living dead celebrates Ikoli Harcouth Whit, a Nigerian choral composer who struggled in the 1920s for lepers to be treated with dignity. Ola Rotimi's didactic call for unity in the play may be traced to his own multi-ethnic background, as is in his several subsequent works. Ola Rotimi died in August 18, 2000, few months after his wife's demise; Hazel Mae Gaudreau, the French-Canadian he had married in 1965, who, together with their four children, participated in his plays.