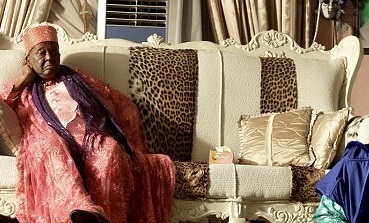 Okunnade Sijuade, the fiftieth Ooni of Ife, becoming one in 1980, was born 1 January, 1930 to the son of Adelekan Olubuse I who was the first Ooni to venture out of his domain, and who in 1903, ended a controversy among traditional rulers on the invitation of the Lagos colonial government. By the time of his coronation, Sijuade had become a wealthy man selling cheap and durable Soviet made cars that many did not want to, for the nation's stance towards communist Russia. He had also ventured into real estate business in his hometown, Ile-Ife.
As a boy, Sijuade showed awareness of his royalty, once saying to the face of the feared schoolmaster, the Reverend Israel Kuti, who whipped him during his studentship at Abeokuta Grammar School, that he was of royal birth. He moved on to Oduduwa College in Ile-Ife, and thereafter joined the Nigerian Tribune as a reporter and later, sales executive. In a bid to have him oversee his business, Okunnade's father had arranged his journey abroad to study Business Management. His training was essentially in Northampton and with the Leventis Group in Manchester in 1957. He returned to Nigeria after a couple of years as the western region sales manager of the Leventis Motors.
The Nigerian federal government now involving itself increasingly in industrial activities, employed Okunnade as Sales Director of National Motors. As manager of the company, he had, in one of his journeys, encountered the opportunity that will form the nucleus of his business empire. In 1966 he left the government employ to focus on business, moving the headquarters of his operations to be United Kingdom in 1973. He had forayed into real estate in his hometown few years before his coronation as King in 1980, stepping into a controversy, renewed four years earlier with the protested decree of Oyo State military government that the Ooni of Ife would be the permanent chairman of the State Council of Obas and Chiefs.
Sijuade was a professed Christian though he presided over a deeply pagan institution. His proclamation for the Foursquare Gospel Church in 2009 ended the argument as to where his allegiance lies. Although he decried the involvement of Yoruba socio-cultural associations in partisan politics he was himself often rumoured to favour certain political players. In 2015 he became late.