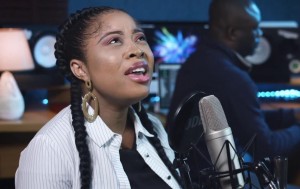 OKOJIE Benedicta; Stage name Benita, child gospel singer known for her several native hits. Born in 1988 in Ifako, Lagos, Benita, the second child of her parents, started her music career under the tutelage of her mother at the tender age of four. She started singing professionally at the age of six and recorded her first album when she was nine. The album was released in August 1998 when she was 10 years old. Benita's mother was a singer in church, and her daughter had stood in for her when she lost her voice. Then, the pastor advised little Benita to do something with her voice because it sounded beautiful. That was when her dad decided that he would work with her and take it to the next level.
Benita had her elementary education at Starfield Nursery and Primary School. For her post-elementary education, she attended Cayley College. She studied English Language at Redeemers University. Her dad was her manager and he was the one who discovered and nurtured her talent. He worked with great musicians such as Onyeka Onwenu, Felix Libarty, Chris Okotie, and Sunny Okosun. A song like Osemudiamen, which remains her biggest, was co-produced, marketed and distributed by him. First lady, Stella Obasanjo invited Benita to the Presidential Villa to sing at Nigeria's 40th independence anniversary at Aso Rock in Abuja. She also performed at FIFA Under-21 World Cup (Nigeria 99). Benita was the face of Caprisonne beverage, popular among kids, a position which afforded her the opportunity to travel a lot outside Nigeria[i].
Benita celebrated her six years on stage in April 2004 on the occasion of her 16th birthday. In an interview she divulged her dream of combining her music profession with a career in broadcasting. Benita was the only artiste that performed at the opening and closing ceremonies of the FIFA-rated Nigeria '99[ii].
 
[i] Punch 14 May, 2017
[ii] Tell May 3, 2004