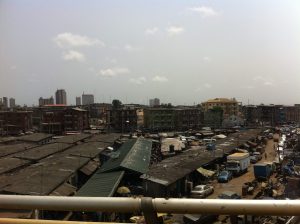 Ojuelegba; situated at the crossroads in the entrance of Lawanson Road in Yaba, Lagos. The never sleeping downtown is the sight of the ubiquitous yellow buses with two black stripes merge with other -commuter vehicles at link routes leading to Lagos Island, Victoria Island, Ikoyi and the Lekki Extension to the south-east; Ikeja and its environs to the north; and Apapa to the south. Commercial motorcycles, aka okada, are also not left out as they ply Ojuelegba's closest mainland environs of Tejuosho, Yaba, Surulere, Mushin, Idi-Araba and others. Towering above these busy transits, Ojuelegba's major landmark, the Western Avenue flyover, stands tall, again linking yet another mass of vehicles. At the heart of all these movements, pools of people flow and mingle as they go in different directions. For some of these people, Ojuelegba becomes a major terminus linking routes within Lagos and other places like Ibadan, Benin, Uyo, Onitsha, Port Harcourt, Abuja and even neighbouring countries like Benin Republic and Ghana.
With the heavy presence of commercial vehicles at Ojuelegba, a hub of business has evolved over time. Several of these businesses thrive beneath Western Avenue's flyover. As bus conductors beckon passengers into their vehicles, some drivers can be seen buying shots of ogogoro, local gin. Alongside the heavy presence of dealers in second-hand wares, there is a heavy presence of food sellers and electronic gadgets vendors. Mechanics spill out from their small stalls under this bridge to their shops along the roads which also house canteens, beer parlours, bookshops, spare parts shops, cyber cafes and a lot more. Since the building of the bridge, more businesses have found their way to this area. The rate of infrastructural development in the Ojuelegba environs has made area more attractive for business enterprises. Whereas the roads leading to Yaba and Itire were single lane each, as the second millennium set in, the administration of Governor Tinubu saw to the expansion and dualisation of these roads.
Ojuelegba shares close proximity with the Tejuosho, a core market in Lagos State that was gutted by fire in 2007. For a teeming population of business owners and operators of inter-state commercial businesses, Ojuelegba is a major source of livelihood. In turn, their businesses have attracted several banks. In the 1970s, Empire hotel was the soul of Ojuelegba and Fela Anikulapo-Kuti, the Afro-beat legend performed his music there. Empire has since degenerated into filth. In the past, Ojuelegba was synonymous with traffic congestion, a metaphor that later became a feature in Fela's track, Confusion.
History
Ojuelegba has been in existence since as far back as the 17th century when settlers, mostly farmers, were worshipers of Elegba, the Yoruba deity also known as Esu. In Yoruba cosmological beliefs, Elegba or Esu, which is either male or female, is an intermediary of peace between people and Olodumare, the Yoruba god of creation. As is characteristic of the deity, Elegba, the shrine was initially located at the crossroads of the current Ojuelegba. Ojuelegba is named after the Ojugbo Elegba — the shrine of Elegba: before now, it was called Abule Elegba (Village of Elegba). As the country developed, Ojuelegba, which initially was a community where everyone knew one another, developed into a beehive of commercial activities.
[1] TELL November 17, 2008