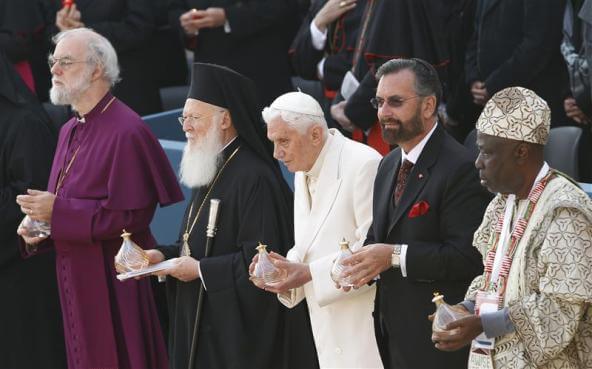 Ogunwande Abimbola; History professor, university administrator, and Ifa diviner born in the town of Oyo in 1936. Two years after his tenure as Vice Chancellor of the Obafemi Awolowo University Abimbola became Majority Leader of the Nigerian Senate. For two years, he served as Special Adviser on Cultural Affairs and Traditional Matters to President Obasanjo. As one designated by the Ooni of Ife, with recommendation of the committee of West African babalawos, or native diviners, as the global spokesperson for Ifa, Abimbola joined Pope Benedict XVI and other Christian leaders in the inter- faith Prayer for Peace that was held at Assisi, Italy, in 2011.
Ogunwande Abimbola came from a long line of traditional bearers, with his father, Iroko, celebrated hunter and veteran of World War I heading the Ogun community in Oyo till his death in 1971. Wande's mother too was a priest of Sango till her demise in 1987. His own wife is an Ajisebo, meaning one who is versed in offering sacrifices. Wande Abimbola went to Olivet Baptist High School, where he joined peers for evangelism from 1952 to 1958, preaching in Ijaiye Orile, Jagun village and other assigned missionary fields. On his way back from those trips he often dazzled fellow students with Ijala chants and Ifa corpus.
Education
Abimbola obtained a history degree from the University of Ibadan in 1963. He furthered his education at the North-Western University Evanston, Illinois, USA, 1965-1966 and University of Lagos, 1967-1970. At this time he had stopped attending churches except on rare occasions when he was invited by a cousin. Ogunwande Abimbola was appointed at Institute of African Studies, University of Ibadan, as a Junior Research fellow, 1963-1965. In 1966-1972, he was a Senior Research fellow in Yoruba studies at Obafemi Owolowo University, Ile-Ife, 1972-1776.
Scholarship
Professor Ogunwande Abimbola, was a lecturer at the University of Lagos in 1966-1972, An Acting Head, Institute of African Languages and Literature, Obafemi Awolowo University, Ile-Ife, 1972-1976. He was appointed as a Professor of Languages and Linguistics, Obafemi Awolowo University, Ile-Ife, since 1976. His qualifications and intelligence open more grounds for him to head various department in Universities which includes, Head of Department of Languages and Linguistics, Obafemi Awolowo University, Ile-Ife, 1976-1977, Dean of Faculty of Arts, Obafemi Awolowo University, Ile-Ife, 1977-1979. He was a visiting professor of Comparative Religious Ethics, Amherst College, Massachusetts, USA, 1980-1981. Just a year later he was appointed as a Vice-Chancellor of Obafemi Awolowo University, Ile-Ife in 1982-1990. During this period, he is known to have invited babalawos on occasions to come say prayers for peace and offer sacrifices to "the gods" in the Ife campus. In subsequent time, he was a Gubernatorial Aspirant, defunct Social Democratic Party. He headed a title known as Awise Agbaye of Yorubaland and has a publication also known as Ijinle Ohun Enu Ifa Apa Kini; Ijinle Ohun Enu Ifa Apa Keji.