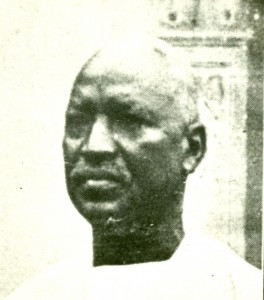 Oguntola Sapara the medical doctor; one of the pioneers of modern Medicine in Nigeria, is remembered for his brave fight against cultism as practiced by worshippers of the small pox god, Sopona. He is the younger brother to Alexander Sapara Williams who was a prominent Nigerian lawyer. Born Alexander Johnson Williams in June 1861 to a former slave from Ilesha. Like many other Yoruba emancipated slaves in Sierra Leone, his family had moved to Lagos in 1876. Because of his believe that Africa possessed a cultural background of which every African must be proud, he had not only changed his name but also decided to abandon as completely as possible, the wearing of European dresses.
Odunbaku Sapara took up posts in the colonial medical service 1876-96. He travelled to London and by 1895 when he returned to Lagos he had earned several professional qualifications in the medical field from the universities of London, Edinburgh and Glasgow.
Sapara held an unbroken record of service in the colonial medical department for thirty-two years, starting with the post of the Assistant Colonial Surgeon. He displayed an unusual interest in lay medicine and devoted himself to the thorough investigation of traditional herbs. His interest also extended to public health, fighting for slum clearance, and proper education of people against the tuberculosis epidemic that struck in 1918. The public dispensary he organized in 1901 later became the Massey Street Hospital, opened in 1926. His battle with the fearful local cult that threatened dissidents with the infection of small pox is legendary. He joined the cult disguised, at his own risk, to learn the secret of their power, after which he helped the government prepare legislation to ban them. Among Sapara's other achievements are discoveries in herbal medicine.