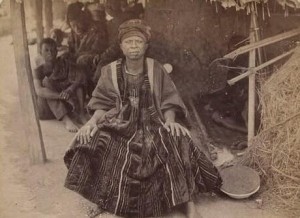 Ogedengbe was the appellation taken by Orisarayibi Ogundamola as an adolescent. He was the 19th Century warrior and liberator of Ekiti and Ijesha people from the domineering power of Ibadan. Ogedengbe was born in 1822 c. in a small village, Atori, within the Ijesha territory. The time of his birth coincided with one predicted by an Ifa priest who spoke of the advent of a warrior who would free his Ijesa people from foreign domination. Ogedengbe was thus treated prefentially from childhood, that he lacked common courtesy towards elders. His father was also promoted to the Owa, king of Ilesha's cabinet as an adviser on account of his special birth.
At the age of 17, Ogedengbe became deputy leader of the age-group, Ipaye, which was commuted to community service. He was jailed for three months in 1857 for  impregnating a girl in spite of her parent's refusal of his marriage proposal. Shortly after the time of Ogedengbe's release, an expansionist campaign of the Ijesa reached Ekiti villages of Efon and Oke-Mesi. Ogedengbe joined this effort, but the progress made by Ijesa warriors was arrested by Ibadan army who effectively added Ilesha under its control in 1867. Ibadan domination under which Ekiti and Ilesa people lived was resolved in the Ekitiparapo War. In this war, Ogedengbe deployed martial knowledge he had acquired as a prisoner of Ibadan warriors in 1864 and 1867. In one failed attempt to escape from his Ibadan captors, he had secured deep rough cuts which disfigured his face for the rest of his life. When he finally escaped to Ilesha he began to build a following of men who were enticed by his knowledge of military organization.
When in 1868, Ogedengbe led town boys to dislodge an Ilesha chief accused of spying for Ibadan, he became the people's hero. He and his group of young partisians became more daring in their attitude towards Ibadan which was the Yoruba military power of the 19th Century. Encouraged by the news of the death of Ogunmola, Ibadan's war chief, Ogedengbe and his Ijesa fighters launched an offensive against Ibadan, and was repelled till they fell back to Ilesa in the defensive. On 4 June 1870, Ogedengbe led his men out of Ilesa as demanded by the conquering party and threw open the gates of his beloved Ilesa, grudgingly naming the town a vassal state to Ibadan. From his hiding place, Ogedengbe once stormed Ilesa to dislodge a newly installed king of the town who had been favoured by Ibadan because of his weakness. Thereafter, Ogedengbe re-camped in Ita-Ogbolu, a town near Akure. While in this new abode, he made pacts with Akure and the Ekiti kingdoms of Ado and Emure. In 1878 when Ekiti alliance with Ilesa was formed, Ogedenbe became the Chief Commander and led the struggle that ended in total freedom of the North-East Yoruba district from Ibadan domination.
Ogedengbe after the war did not learn to settle to civilian life until he was scape-goated by the new British authority. In old age he became an elder statesman, often advising the town's monarch according to the people's will. Ogedengbe died in 1910. In his life, he was praised for his laconic and straight-forward approach to issues. C.M.S's Rev. Wood called him the best businessman he had ever seen among the uneducated.