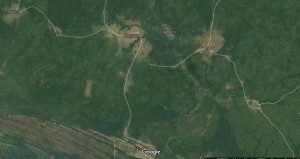 Ode Irele; an Ikale clan and kingdom encompassing Irele town which serves as the headquarters of Irele Local Government Area of Ondo State and smaller settlements like Gbeleju Loda, Lofo, Onipanu, Atoanse-Ayadi, Ajana, Otu Loya, Ayadi, Lotito, Kajola, e.t.c. Traditional occupants of this relative Ikale hinterland are described by Oba Olanrewaju Lebi, Olofun (traditional ruler) of Ode-Irele in a self-account as tall and good looking, elegant in dressing and inflexible in character. Their ancestor, Olumisokun who came from Ile-Ife through Idanre and Benin, had two sons, Jagboju and Oyenusi, descendants of whom form two quarters of Irele known by their names. The other two quarters, Orunbemekun and Gbogunron/Aribo had progenitors who were Ugbo, the autochthonous people who left Ile-Ife for the coastal area of present Ondo State in protest of the ascendance of Oduduwa. Jaboju as traditional ruler of Irele, known by the title Olofun, merged descendants of Ugbo and Ile-Ife migrants to form a single kingdom of Irele with his headquarters at his mother's place called Ohunmo.
The name Irele was coined from the sad story of a war at the twilight of Jaboju's reign, when invaders killed his son, nephews, and their father who was his own brother, Oyenusi. Broken hearted, and deciding the place was no longer suitable, he had decided to go to his father's abode, saying, "Maa rele baba mi," meaning I will go to my father's home.
Jagboju: This quarters occupies the approximate center of the town. Jagboju, the first son of Olumisokun, traditional founder of Irele has son, Erufa whose descendants are Yaere, Lurogho, and Odunwo. He also had a son, Fabohun whose descendants are Obolo (or Omo). Another son of his was Mawuwahan whose descendants are Obamoyegun, Akingboye, and Ruwahe. There are also Logbosere and Lurogho whose separate descendants still bear the same name as their ancestor. The name has not evolved also for Lemadoro who was Lughoro's maternal brother. Jagboju is a ruling house in Irele.
Oyenusi: Oyenusi, the second son of Olumisokun had twenty-one sons who would form twenty-one quarters in Irele. These quarters occupy the largest fraction of Irele land area and some three-quarter of Irele population. Oyenusi quarters includes Opetusin, Eriimokun, Agbogun, Akinyomi, Lanusi, Idogun, Woye, Gboroye, Gbeleju, Maran, Luhare, and Oruto. Others are Ayadi, Oge, Lemikan, Arogbo, Owanaye, Sokoti, Aduwo, Petu, and Arowa. Like Jagboju's, the Oyenusi is a ruling house in Irele.
Orunbemekun: Descendants of Orunbemekun who came from the lineage of the Ugbo monarch. Orunbenmekun was the elder son of Ajana, progenitor of this quarters, who having lost the crown of Ugbo, founded Orofun. Like his father, he lost the crown to his younger brother, even when he had the backing of the imperial Oba of Benin. Orunbemekun fled with his followers to Ohunmo, from where their descendants moved enmass to Ode-Irele.
Closely related to this quarters is the Aribo family, who are descendants of children born by Lara, the widower of a man from Mahin, to one of Orunbemekun's son who later ruled in Ode-Irele. Lara's father, the Gbogunron, was one of Orunbemekun's trustiest chiefs.
Gbogunron: Unlike the other three quarters, do not have their members rise up to the position of the king. Descendants of Gbogunron however grew larger than Orunbemekun and acquired more farm land. Their progenitor, Igbon, originally from Mahin, came with Ajana from Ugbo and was honored with the title of Gbogunron for his effort in helping Ajana settle at Orofun.
Geography, Flora & Fauna
Irele is one of the principal Ikale towns and it is located on a hill 135 feet above sea level on a latitude of 6.49418° and longitude of 4.87036°[i]. A forest reserve created for Irele in 1918 measures 18 miles by 7 miles. The areas nearby are covered in order of decreasing density by cropland, grass, trees and shrubs[ii]
The kingdom of Irele is bounded at Sabomi and Igbonini by Ese Odo Local Government town of Iyansan. It also shares boundary at Ominla, Ore and Ofoso with Aye in Okitipupa Local Government, Ondo/Odigbo Local Government, and Edo State, respectively.
Meteorology
Rains are torrential during its season and many areas are flooded[iii]. Temperature is relatively high during the dry season, reaching about 30°C. Winds from the far Northeast brings harmattan from December to February, thereby ameliorating the dry season high temperature[iv]
Politics
Three of the four major quarters of Ode-Irele have rights to produce the Oba of Irele, called Olofun, a title bestowed Ajana, a prince of Ugbo who settled in Ode Irele following the intrigues that accompanied the death of his father, who was the sixth Olugbo of Ugbo. The institution of the Olofun, as described in Assessment and Intelligence Reports of the 1930s is distinct from the founding of the town. The party which supports the Abodi in Ikoya's paramountcy over Olofun bases their position on the history which asserts the former as arriving at Ode-Irele earlier and bestowing the first Olofun with his title. On the other hand, the Olofun, since the 1971 letter from the "Abodi of Ikale land" to him requesting for a meeting with his subjects, had claimed seniority over the Abodi. This, he based on his ancestor, the Olugbo being the first crown head (from Ife Odaye) to settle in the defunct Okitipupa Division following the protest migration seaward against the overpowering Oduduwa kingdom.
Economy
Bitumen deposit, adjudged the second largest in the world, caught the attention of the Federal Government in 1993 when 2 billion naira was pledged for its exploration. There is an oil palm estate in Ode-Irele[v]
[i] Where-is.org/ng/ode-irele
[ii] Weatherspark.com
[iii] Where-is.org/ng/ode-irele
[iv] Sciencedirect.com/science/article
[v] thehopenewspapers.com