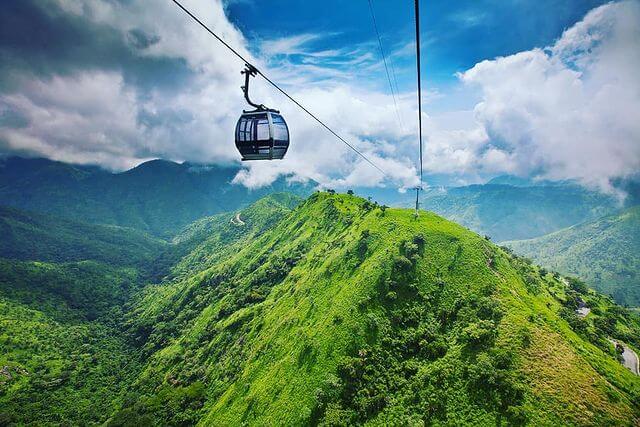 Obudu Cattle Ranch; now called the Obudu Mountain Resort rather than the Obudu Cattle Ranch. It is located at the Obaniku Local Government area of the northern part of Cross River State and just about 30 minutes drive from Obudu town and about five hours from Calabar, the state capital. It can also be accessed by air and it has a small airstrip and presidential helipad. The airstrip now attracts flights from Lagos, Abuja and Port Harcourt via Calabar to the strip during peak periods. The flights are run by Aero contractors.
A cable car system brings guests from the resort entrance at the bottom of the mountain to the ranch at the hill top. It is claimed to be one of the longest cable car facilities in the world. At the ranch is a breathtaking water park with facilities for swimming and water slides for all tourists. Other attractions include cattle bred on the ranch for fresh milk, butter, meat and cheese. Horses, waterfall, golf course, canopy walk, organized bonfires and beautiful views of mountains and the country-side. There is also a honey and yoghurt factory, and the ancient Anape village. The ranch equally boasts of conference centres, as well as bungalows and chalets of varying sizes and styles to accommodate diverse budget. The presence of well rated restaurants also ensures that  guests get quality meals while at the Ranch. Visitors to the resort centre are also assured of medical facilities, night club, school, police post and staff quarters. The Tinapa Resort can also be a part of the package for any interested tourist[i].
Situated in what used to be a thick forest of rubber plantation in Adiabo, about 10 minutes' drive from Calabar City, the Tinapa Business and Leisure Resort was set to operate as a free trade zone. Given Calabar's reputation as a seaport, the government hoped investors would take advantage of the tax-free concessions and ship in their products without hassles. The resort boasts of international standard emporium, integrated shopping complexes, entertainment centres, cinemas, studios, cultural village and hotels amongst others. Then, there is a river overlooking the resort, adding to the grandeur. Tinapa was a public-private initiative by a consortium of investors and the Cross Rivers state government which provided the initiative and put down some money asked a consortium of investors, owning an equity of ten percent[ii].
[i] Nigerian Compass June 13, 2009
[ii] Newswatch April 9, 2007