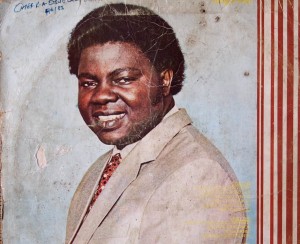 Obey Fabiyi; Nigerian musician famed for many hit songs which remain evergreen and still being purchased five decades after release, due to its philosophical lyrics and style. Also known as Ebenezer Obey, he came into limelight as the creator of Miliki, a genre of juju music. His hits which were either in the Golden Disc and Platinum Disc rank were Omo Soja, Ketekete, Alowomajaye, Olo Mi Jowo, Paulina, Black and Proud and Board Members. The last, a megahit was performed without rehearsals. He garnered fame and fortune as he waxed strong in the secular music circle. But he receded from the public view due to a change in musical directions in 1992 consequent of his new devotion to faith. A biography titled History on course, was written by Wole Osunmakinde to celebrate his 70th birthday[i]. Obey holds the traditional title of Amuludun (chief entertainer) of Egbaland and Amuludun of Okene, bestowed by traditional rulers in respective domains[ii].
 
Origin
Obey was born to Egba parents from Abeokuta who lived in Idogo, a village in the Yewa axis of Ogun State. His parents were of humble origins. His mother, Juliana Olaide Obey-Fabiyi, Ebenezer's died at the Lagos State University Teaching Hospital, LASUTH, Ikeja, Lagos. She was aged 67 years[iii].
 
Childhood
To acquire early education as a child, Obey did menial jobs: carrying cement bags or building blocks at house construction sites, to newspaper vendorship. He was the younger son among three children of his parents.
Family
Tolu Obey, Ebenezer's young son opened the stage at Fela's anniversary in 2003 with a rendition of Lori Oke ati Petele, the Egba anthem[iv].
Education
Fabiyi attended Methodist Primary School, Idogo, Ogun State, 1948-54 and Methodist Secondary Modern School, Abeokuta, Ogun State 1955-58.
 
Contemporaries
King Sunny Ade is Obey's long-time friend and contemporary in the Nigerian Juju genre. Lyrical barbs observed in the duo's lyrics were rumored to be targeted at each other. In 2012, he performed at his friend's anniversary party.
 
Miliki
Ebenezer Obey started his music playing around the Idogo area and later Abeokuta, before moving to Lagos.  Life in Lagos was tough that he had to trek from Mushin Oloosa where he lived to Abibu Oki Street on Victoria lsland, where the office of Decca Records was located. The white man at site who gave him a chance when others did not also helped him with 19 copies of the mandatory 500 copies purchase by distributors which would qualify him for a contract[v].  After this, Obey performed regularly at Miliki Spot on Olorode Street, Lagos, before going on the world stage.
By the 1960s, Ebenezer Obey brought in more guitars and Western drum kits to the juju music type that Julius Araba, J. O. Oyesiku and others played in the '50s' to complete its traditional form to an urban social music type. He made his first big hit, Olomi gbo temi in 1963 by modernising the music of the day and creating his own fashion in music, the miliki system.
 
Travels
Obey-Fabiyi's travel experiences are often mentioned in his songs. Examples are Ni 'lu America, A de Philadelphia, New York City, Washington DC pelu Chicago, gbogbo e aresepa ni meaning "in America, we performed at Philadelphia, New York City, Washington DC and Chicago as if we were on a jolly stroll."
 
[i] Punch April 8, 2012
[ii] Insider April 8, 2008
[iii] Newswatch September 12, 2011
[iv] Tell October 30, 2000
[v] Newswatch April 16, 2012