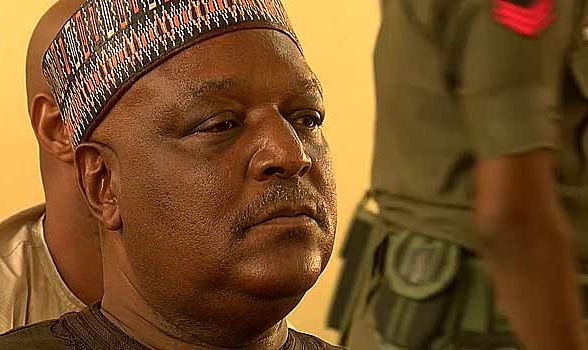 Nyame Jolly Tevoro; cleric, politician, administrator and civilian governor of Taraba State in whose name the stadium in Jalingo is called. Nyame had his education at St Thomas Primary School, Zing, 1962-67; Government Secondary School, Yola, 1969-73; Theological College of Northern Nigeria Bukuru, Jos in 1980, same year he got married to Precilla with whom he raised one son and two daughters[i] He proceeded to the University of Jos 1984-86. As member of the ruling Peoples Democratic Party, PDP, he became a senator of the Federal Republic of Nigeria in 1998. Nyame who hails from Zing local government area became the governor of Taraba State in 1999 on the platform of the PDP, and he was re-elected for second during the April 19, 2003 general elections. He was born on Christmas day, 1955[ii]. Before joining politics, the revrend Nyame, was a priest of the United Methodist Church of Nigeria, UMCN. A stadium in Jalingo is named after him.
There were widespread allegations that Governor Nyame masterminded the impeachment of his deputy. Before Maigari's impeachment on 3 March, 2004, President Obasanjo summoned Governor Nyame, the former Deputy Governor Ahmadu, the Speaker of the Assembly, Hon. Simon Dogari and Engineer Ahmed Yusuf to Aso Rock to reconcile all the parties in the crisis. It is reported in the media how at the end of the meeting, Nyame and the Speaker, Simon Dogari, promised to drop the impeachment article against the deputy governor. Contrary to the agreement, Governor Nyame gave the go-ahead to the Taraba lawmakers to impeach Maigari[iii]. Nyame's Chief of Staff, Joshua Kalla resigned his appointment after a disagreement over some cabinet appointments made by Nyame. Kalla later formed a rival political group to Governor Nyame's. Since then, both men remained irreconciliable. Kalla's kidnap and subsequent death about two years later divided opinions among his kindred, almost devolving to a security breach[iv].
Like Nyame, the people of the state expressed their displeasure with Obasanjo whom they voted enmass, that the federal government under him did not consider siting agro-based industries in the state, even when those with less potentials have such industries[v]. Nyame was among the high-profile suspects granted bail by the Abuja High Court for misappropriation of #180 million[vi]. Subsequently in 2018, Nyame was sentenced by the Supreme Court to a 12-year jail term for diverting N1.64bn during his tenure as governor of Taraba. He was released following a pardon by President Buhari in August 2022[vii].
[i] Newswatch Who is Who
[ii] Inisder, December 27, 2004
[iii] The News, March 22, 2004
[iv] The News, November 24, 2003
[v] The News, December 19, 2003
[vi] Newswatch, April 5, 2010
[vii] Punch, August 9, 2022