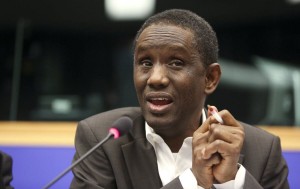 Nuhu Ribadu; Nigerian anti-graft czar,  founding chairman of the Economic and Financial Crimes Commission EFCC, who brought freshness, patriotism and candour to his job. As an undergraduate Law student in Ahmadu Bello University in Zaria, the story was told of Ribadu's foolhardy confrontation with a gunman when he was himself armless. While he was only an Assistant Commissioner, a middle management position in the Nigerian police, Ribadu was recommended by Attorney General, Kanu Agbi, for the chairmanship of the newly constituted EFCC. Within a month, he was able to shut down all the leading foreign letter scam operations in Nigeria. With this effort, he achieved the removal of Nigeria from the list of the Financial Action Task Force, becoming an instant celebrity[i]
Before he left office, President Obasanjo who appointed Ribadu elevated him twice within one year, the last a hurried elevation to the position of Assistant Inspector General of Police in appreciation of his efforts at rooting out corruption in the system. His subsequent posting by successive President Yaradua for a nine-month course at the Nigerian Institute for Policy and Strategic Studies, NIPSS, Kuru, Plateau State, became public knowledge due to concerns, which proved valid, of his probable removal from office.  Ribadu came a distant third in the presidential election of 2011 that was won by incumbent President Goodluck Jonathan. He was appointed in February 2012 as chairman of the Task Force by Federal Government to ensure transparency in the petroleum industry. Adamawa-Bindow Jibrilla defeated Ribadu to win the April 2015 governorship poll in Adamawa State[ii].
 
Education
Nuhu Ribadu attended Mustapha Primary School from 1966 to 1973; Yelwa Government Secondary School, Yola, 1973 to 1978; and College of Preliminary Studies, from 1978 to 1980. Thereafter, he gained admission into Ahmadu Bello University, ABU, to read Law between 1980 and 1983. He was called to the bar in 1984. After his mandatory national youth service, he opted to join the Nigeria Police Force, NPF, in 1986. Shortly afterwards, he returned to ABU for his master's degree.
Contemporaries
Ribadu is in the class of the Obasanjo's illustrious lieutenants who shared in his vision during his presidency. Among these class were El Rufai who was the minister for the Federal Capital Territory; Ngozi Okonjo-Iweala, minister of finance;  Oby Ezekwesili, former minister of education; and Dora Akunyili, food and drugs agency head who succeeded in running quack chemists out of town[iii].
 
EFCC
As a police officer, Nuhu Ribadu served as Head, Legal and Prosecution Department of the force before his appointment in 2003 as the pioneer chairman of EFCC. At the forefront of the war on corruption in public office, some of the most significant cases the Commission has investigated and prosecuted involve top political office holders. Before EFCC was established, there has been zero conviction for corruption and no record of normal court processes.
Under Ribadu's chairmanship of the Nigerian anti-corruption commission, thousands of advance fee fraudsters were investigated and arrested; hundreds of their 'business' premises closed down, with thousands of computers and other machines confiscated- Advance fee fraudsters and corrupt public officers accounts for a significant chunk of the over 250 convictions secured by the Commission in four years. The number of convictions was a record, in terms of time frame, for any agency with a mandate similar to EFCC[iv].
 
[i] The Accidental Public Servant, Nasir El Rufai
[ii] Punch May 30, 2015
[iii] Tell May 2007
[iv] The News March 31, 2008