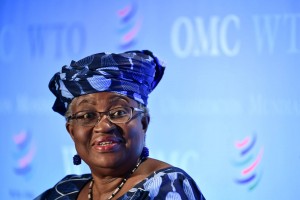 Ngozi Okonjo-Iweala; Economist, as cabinet minister belonged to the crop of energetic technocrats of President Obasanjo's second term in her position as Nigeria's finance minister. Before her appointment, Okonjo-Iweala was Vice-President of the World Bank. While in office, she headed a team of 13 other ministers largely responsible for fashioning the administration's series of economic and social reforms. She resigned in August 2006 on her removal as head of the team, a position she had retained even with her transfer to the foreign affairs ministry[i]. Dr. Ngozi Okonjo-Iweala's reign in the finance ministry has, so far, been adjudged the golden era of fiscal management in the history of the country. As finance minister she spearheaded the rigorous negotiations with Nigeria's foreign creditors for debt write-off. This culminated in the Paris Club's writing off of a substantial amount of the country's debt totalling about $18 billion.
It was said that the influence of the Minister of finance, Dr. Ngozi Okonjo-Iweala; and the Minister of Petroleum Resources, Mrs. Diezani Alison-Madueke, made Jonathan's administration popular[ii]. She established in the media that Nigeria was the biggest economy in Africa[iii]. She was widely criticized late in Jonathan's presidency for making misleading impressions about the economy. As Minister of Finance and Coordinating Minister of the Economy under President Jonathan, she announced the fall in oil prices has led to new austerity measures[iv].
 
Origin
Father, Chukuka Okonjo from Umu Obi Obahai Royal Family of Ogwashi-Uku was a professor of mathematics. Her mother, Kamene, who got married to Chukuka in 1953 is professor of medicine[v].
Places of Growth
Born in Ibadan June 13, 1954 to professor parents; Chukwuka Okonjo, indigenes of Ogwashi-Uki in Delta State, Okonjo-Iweala had her early education at the university of Ibadan staff school. She later went to Queens's School Enugu.
 
Family
Married to a U.S. based surgeon, Ikemba Iweala, from Abia State, Okonjo-Iweala is a mother of four children. Her son, Uzodinma is the Time Magazine honoured author of the Novel, Beast of No Nations[vi].
 
Education
Okonjo-Iweala graduated with an A.B. magna cum laude in Economics from Harvard University, and holds a PhD in Regional Economics and Development from the Massachusetts Institute of Technology[vii].
 
Career
From the post of the Special Assistant to the Senior Vice President, Operations (1995-1997). From 1989 to 1991 in the World Bank, Okonjo-Iweala rose to serve as Director of Institutional Change and Strategy (1995-1997). two tours of duty (1997-2000) working in the East Asia Region during the East Asian financial crisis; two duty tours in the  Middle East Region, the last (2000-2003) as Director, Operations (deputy vice-president) of the region. Her 21-year career as a development economist at the World Bank was capped with the post of the Vice President and Corporate Secretary[viii].
In 2000, Ngozi Okonjo-Iweala was granted a six-month leave of absence from the World Bank to help President Obasanjo draft an economic strategy for the new administration and to set up the Debt Management office. At the beginning of Obasanjo's second term she resumed the post of the minister for finance, bringing together immediately, a team which included El Rufai, Oby Ezekweisili, and Nuhu Ribadu. Though she saw herself as a reformer, she was also a realistic student of power, making friends from diverse sides. The concessions Nigeria got from Paris Club were in large part because she knew how to get everyone in the Paris Club[ix]
Okonjo-Iweala led the negotiations that resulted in an $18 billion (60 percent) cancellation of Nigeria's $30 billion Paris Club debt. She also spearheaded the drive to get Nigeria's first ever BB-credit ratings In 2006 from international ratings agencies, a rating that placed Nigeria in the league of emerging strong economies. She was a recipient of the Time Magazine International's European Hero of the year Award; 2004.
 
[i] The Source September 18, 2006
[ii] Punch May 2, 2015
[iii] The News May 25, 2011
[iv] Nations December 27, 2014
[v] Premium Times September 13, 2019
[vi] Insider June 17, 2006
[vii] World Bank blog
[viii] Rockefeller Foundation website
[ix] The Accidental Public Servant, Nasir EL Rufai