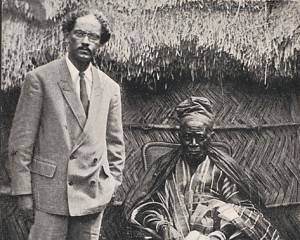 New Africa is the term used for the ideological movement of the late 19th and early 20th Centuries southwest Nigeria sprouted in reaction to the anticipated change of the old order. From the late 19th Century, privileged African children had been sent overseas to study and decades after they have bequeathed their children with the gift of education in turn, inevitably making the traditional system of conduct obsolescent. The term 'New Africa' was used by Timothy Odutola in 1938 to encompass this trend that developed during the eminent emergence of a new class of educated leaders like Samuel Akinsanya, Obafemi Awolowo among several others. The affluent Odutola had advocated in his commentary, Africa's need for men of action with broad mind who will handle her problems practically, whether such persons are of humble or high birth. The New Africa era of the preceding century was in Lagos mired by the fierce debate on the Yoruba language versus English language in education, women education, and the morality of polygamy. This crisis of identity divided the peddlers of European, Brazilian, Muslim and Native civilization in Lagos, as one strived to surpass the other. The New Africa ideology of the time preceding 1940 excluded the urgent desire of self-rule. Not even the leading propagators considered self-government outside the British Commonwealth expedient. Their anglophonism was preserved, but their faith in the traditional system of administration was not eroded either.
The moderate iconoclasts' unstoppable invasion of central affairs did not go unchallenged. In Ijebu, their activities pitched them against an even more threatening group of octogenarians, called Oloritun, who led various quarters of the town. By 1942, a state of war had ensued between the two classes as it were in Lagos decades before. This potentially dangerous situation finally led colonial authorities to their moment of truth. Decisive steps were recommended to achieve the necessary injection of educated Africans into public administration.
The New Africa phenomenon in Igbo communities in Nigeria's eastern region predated even the advent of the British, but the meritocracy that developed was clearly defined by wealth and power. The nineteenth century in this region was marked by the undermining of the rule of elders by these men- called the New Men in Elizabeth Isichei's account. This apparently "unprecedented" class of men is exemplified by Obi Igweli of Asaba, who rose above the traditions of Asaba to become Eze; exuding so much wealth and influence that European visitors to the town mistook him for a king. Obi Igweli was in fact a migrant to Asaba- a non-Igbo from Ishan. The selection of Warrant Chiefs, who headed native courts that was widely established by colonial government in 1903 legitimised the careers of some of the new men of the 19th Century.