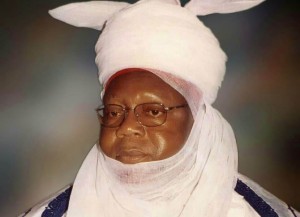 Ndayako Umar Sanda; Monarch and administrator, was the chairman of the Technical Committee set up by the federal government on the review of the structure of local government councils in Nigeria. Young Ndayako's first appointment in the former Northern Nigerian Government was as an assistant secretary in the old Ministry of Local Government. In February, 1964, he was appointed district officer in charge of Tiv Division, and this coincided with the notorious Tiv riots. Ndayako was the 12th Etsu Nupe, the paramount traditional ruler of the Nupe people of Niger state installed on April 18, 1975. Before then, he was a well-regarded civil servant. His death was announced on September 1, 2003.
Origin
Umaru was the son of the ninth Etsu Nupe, Alhaji Muhanrmadu Ndayako. He belonged to Umaru Majigi family of the three Fulani Ruling Houses of Bida
Places of Growth
Ndayako Umaru Sanda was born on February 19, 1937 in Bida, the late Ndayako started his primary education at the East Elementary School, Bida between 1945 and 1948 and entered Middle School, Ilorin in 1949, passing out in 1950.
Education
The Etsu went to Ilorin Middle School In 1949, and attended the famous Barewa College, Zaria from 1951-1956. He went to the then Nigerian College of Arts in Zaria from 1957 to 1959, the year he entered University College now University of Ibadan, Oyo state, graduating with B.A. English in 1962.
Travels
In August 1966 Ndayako went to Manchester University in Britain for a post graduate course in public administration. He returned to Nigeria in June 1967 after gaining a diploma.
Experience
Ndayako was personal secretary to former Head of State of Nigeria, Gen. Yakubu Gowon, was assistant secretary, Ministry of Local Government between 1962 and 1964. Later in 1964, he was posted to Kano as district officer directly responsible for the finances of Kano Local Government and its urban areas. In the following year, he worked as liaison officer for pilgrimage. In November. 1965, the Ndayako was seconded to the Federal Civil Service Ministry of Housing and Survey as assistant district officer in charge of Tiv division in 1964. Between 1966 and 1967, he was a principal assistant-secretary, Ministry of Housing, Lagos.
In 1967, Ndayako was posted to the Cabinet Office — the nerve centre of the country's administration. Since then, he served in various divisions of the Cabinet Office including being an administrative coordinator, and was appointed head of the political division of the Cabinet Office in 1971. The last public office he held until his installation as a monarch was his posting as Deputy Permanent Secretary (political division), Cabinet Office from 1968 to 1974.
 
Accomplishments
Ndayako's contributions towards the dedication to worthy causes in the Bida emirate was recognized with a conferment of the national honour of Commander of the Federal Republic (CFR) in 1982.
 
The Week September 15, 2003